The 1885 Grill in the St. Elmo neighborhood of Chattanooga, Tennessee offers what they call "southern coastal cuisine." I call it great, friendly service and really good food.
Their location is in the heart of the St. Elmo business area. Despite its central location and close proximity to the Incline Railway, the 1885 Grill is the third restaurant to occupy the space in seven years. Based on the amount of business and positive reviews of friends who are locals, I hope that this restaurant is going to stay more than just a few years.
Their service and management oversight was extremely friendly and attentive when we were there. I loved sitting outside…even during rush hour. Perhaps my favorite thing about the service was the water bottles that they leave on your table if you dine outside so you can refill your glass as needed. I am a sucker for a cute bottle.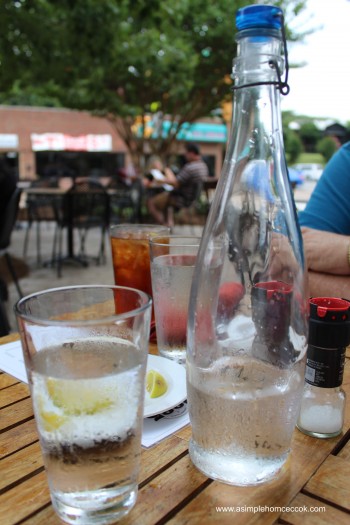 On our first visit, I went inside to the bathroom with my daughter before the food arrived and realized we made a mistake ordering. EVERYONE ELSE had the pimento cheese and okra appetizer….seriously, EVERY TABLE.
On our second visit, I ordered the pimento cheese and okra appetizer. I found out why it was on everyone's table…it was delicious! I loved the fried okra and I don't even like okra. It was not the stock frozen fried okra that a lot of places serve. This one was lightly battered, whole (?) okra that went great with the creamy pimento cheese and flat bread wedges…yum.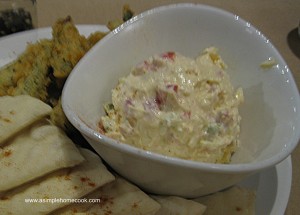 On our first visit, I had the bbq chicken. It was moist, tender and tasty. I loved the bbq sauce. Despite its orange color and Carolina name, it was the perfect amount of sweet for me…not a vinegar/mustard mess like some "Carolina" named sauces.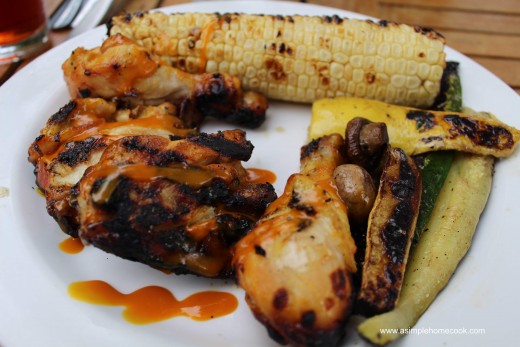 On our second visit, I splurged on the ribeye, which was very good. The sauce with horseradish is served on the side; it was very good…if you like horseradish. My husband had one of the specials, shrimp and crawfish etouffee. He really LOVED it.
The kids menu is one of the best we have found in a long time. For just five dollars, kids can order pasta, grilled chicken, a burger, or my daughter's favorite, a Jr. Veggie plate with their choice of three sides. It is so nice to find a kids menu where everything is not being deep fried or the macaroni and cheese is not out of a box.
Frankly, we enjoyed our second visit more than the first. I think it was because we discovered what the restaurant did very well on our first visit. Plus, from their Facebook page, I understand a new chef joined the restaurant between our first and second visits…perhaps this had something to do with it as well. Anyhow, we changed our appetizer and side dish selections on our second visit. I can enthusiastically recommend the cheesy grits, sauteed seasonal vegetable, coleslaw, and mac and cheese (albeit, it is $1 more…something to consider before ordering it).
Perhaps our perception of our second visit was also enhanced by arriving later and getting to listen to some great live music. I love getting to hear great performers while dining.
Bottom line, we really like the 1885 Grill. It has great southern hospitality and really good food. Its definitely on our places to eat. You should put it on your places to try if your in the area.