It seems I have been making chicken salad quite frequently lately. Not only does everyone like it, but it is simple to make from store-bought rotisserie chicken, leftover herb roasted chicken or other recipes, or quickly cooked chicken in the pressure cooker.
Additionally, I now included healthier ingredients like ground flax, sliced almonds, and sometimes dried cranberries to my chicken salad making me feel better about serving my family it more frequently.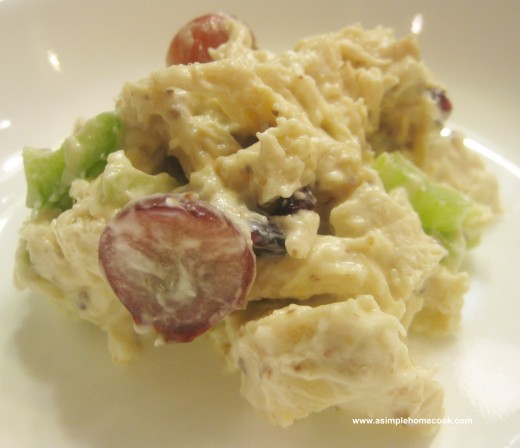 A challenge for me in sharing this recipe is my lack of a recipe.  I normally do not measure the ingredients; I go on sight and taste.    Thus, it took me a while to put the recipe together.  However, this is a dish that is very flexible and  can easily adjusted to tastes and personal preferences.    When making adjustments, remember to adjust the amount of salad dressing or mayonnaise so that it coats all the ingredients without being too much.

If you substitute half of the mayonnaise for Greek yogurt, there will be  a slight change in flavor, an increase in protein, and probably a reduction in calories (depending on what type of mayo or dressing you use).  When I use the yogurt,   I  sub it for only half to maintain much of the mayonnaise or salad dressing flavor, but you could just use the Greek yogurt instead.