On the tables of a couple of my favorite Amish Country Ohio restaurants you will find a squeeze bottle labelled "peanut butter spread."  You will also find this spread in bulk food stores , bakeries, and other shops.  Often referred to as Amish Peanut Butter Spread, this tasty, sweet spread seems to vary a lot depending on who makes it.    All the varieties seem to have three common ingredients: peanut butter, marshmallow creme, and a sweet syrup.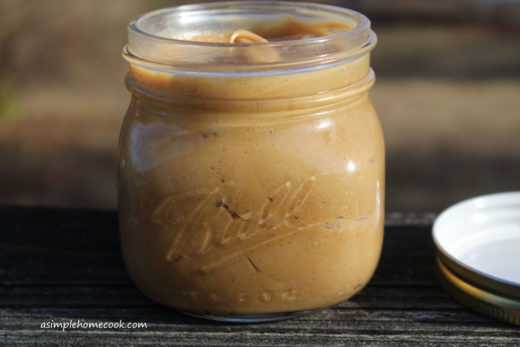 While I used the recipes for a general guide on ingredient proportions, I decided to make the peanut butter spread based on the ingredient list of one made at a bulk food store.  People were clamoring to find it in the crowded store on a Saturday afternoon, so I assumed it had to be a really good version.  Although my spread may not be exactly the same, it is indeed quite tasty.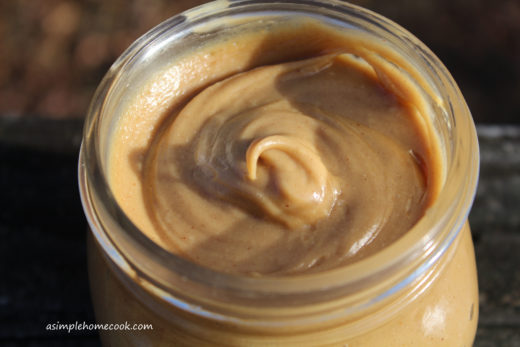 What do you do with Amish Peanut Butter spread?  Eat it on whatever appeals to you.  It is nice on almost anything you would put peanut butter on sliced bread, dinner rolls, graham crackers, vanilla wafers, waffles, pancakes, oatmeal, bananas, and my favorite apples.  Of course, you can always eat it  straight from the jar.  My daughter's favorite is by the spoonful when I bump of the peanut butter to marshmallow creme ratio to 1:1; it is like a spreadable peanut butter fudge.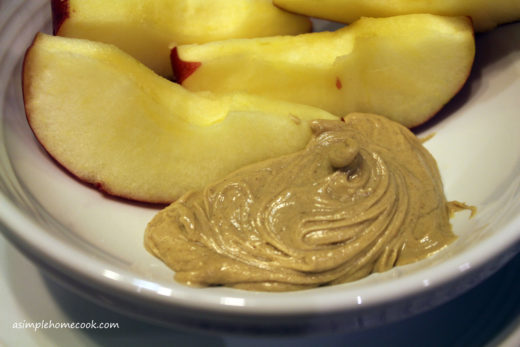 I found several recipes in my Amish country cookbooks, but the ones I liked the best required bringing  a sugar and syrup mixture to a boil before adding it to the peanut butter and marshmallow.
To keep the cost of the spread down, I use mostly brown sugar with some maple syrup and corn syrup.  However, when I throw the wallet more to the wind, I use mostly maple syrup with some brown sugar and corn syrup.  I have included both variations in the following recipe.
Amish Peanut Butter Spread
Ingredients
2 c. light brown sugar
1 c. water
1 1/2 Tbsp. maple syrup
1 1/2 Tbsp. light corn syrup
1/4 tsp. salt
1 lb. peanut butter, smooth
1 pt. marshmallow creme
cinnamon, to taste (optional)
Instructions
Heat brown sugar, water, maple syrup, and corn syrup in a heavy bottomed pot.
Bring to a boil for several minutes until the mixture has reduced by about a third. It should be noticeably thicker.
Add cinnamon, if using, to taste.
Remove from heat and allow to cool to about room temperature.
In a bowl, combine peanut butter and marshmallow creme until it is a uniform color.
Add cooled sugar syrup mixture, stirring until it is fully incorporated.
Store in a container with a secure lid at room temperature.
Notes
For a more intense maple flavor, use 1 cup brown sugar, 1/2 cup water, 1 cup maple syrup, and 3 Tbsp. corn syrup instead of the proportions called for in the above ingredient list.
https://www.asimplehomecook.com/amish-peanut-butter-spread/
2017