Before I was married, my only experience with red beet eggs was tasting one that was sold from a large jar at a small corner grocery store when I was young…it was not a pleasant experience. The eggs were commercially made (and still are sold under the same brand name), an odd color, and had a disgusting taste (as I remember it).
I was rather taken aback when I discovered soon after I was married that my husband (and his father) really liked red beet and other pickled eggs. He was used to eating the red beet eggs made by "Pennsylvania Dutch" in Lancaster County, PA…a very different experience than mine.
On our first trip to the Amish Country in Ohio, my husband persuade me to taste one of the eggs from an Amish/Mennonite restaurant's salad bar. Much to my surprise, I loved it! It was so different from my childhood memory. First, the color was much more appetizing. Second, it had a much better texture. Last, it had a great flavor. I was hooked.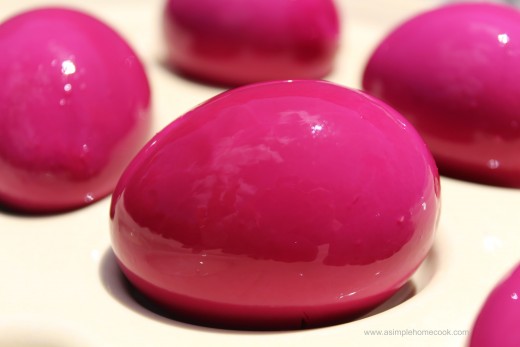 After a few years of buying our favorite jarred red beet eggs from a small company in the Amish Country, I decided to try to replicate them at home. It has taken a few additional years, but I'm finally satisfied with the results. All I needed to do was buy a cookbook produced by the restaurant where I had the first red beet egg I ever liked…and tweak it. 🙂
To remove egg shells easier, try placing the cooked eggs into ice water for 10 minutes before dunking each back into boiling water for a second or two.  The shell tends to expand and makes it easier to separate from the rest of the egg.
Not sure how to hard boil and egg?  This article might help:  How to Hard Boil an Egg.
Homemade red beet eggs are cheaper and easier than buying them in the Amish Country when you live in Georgia.  Plus, you can make them to just how you like them.
How do you use one or two dozen red beet eggs?  Here are a few ideas:
Colorful deviled eggs
Great sliced in a lettuce salad
Cut in half and sprinkled lightly with salt as an appetizer
For egg salad
Sliced on a sandwich with a little Miracle Whip
Straight out of the jar with a little salt
At my house,  eating them straight out of jar is probably the way most of the eggs are consumed.  The only exception is around the holidays.  We serve them as appetizers or sides at Easter, Thanksgiving and Christmas when we have guests.  We also have been known to take them (either sliced in half or as deviled eggs) to potluck dinners..  Once you have them made, they are a great time saver when you are throwing something together at the last minute.
Now, I just have to figure out how to replicate those mustard eggs….