First, I never had an Aunt Mary.  Second, this recipe was from my aunt by marriage. Mary was her aunt. We always called it Aunt Mary's Apple Cake anyway.
This cake is delicious and simple to make, but does require some upper body work.  It is a VERY thick batter ( more like a dough).  It takes work to fold in the apples 🙂  It is worth it.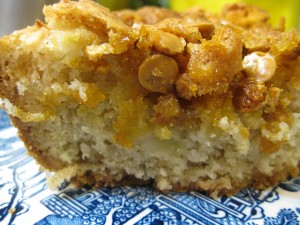 Recipe: Aunt Mary's Apple Cake
Ingredients
2 c. sugar
2/3 c. cooking (vegetable) oil
3 eggs
1 tsp. vanilla
1 tsp. cinnamon
2 1/2 c. flour
1 tsp. salt
2 Tbsp. baking powder
3 c. raw, diced apples
1 c. chopped nuts (optional)
butterscotch chips
Instructions
Blend sugar, oil, eggs, vanilla, and cinnamon together.

Add flour, salt, and baking powder.

Fold in apples and nuts.
Spread into a 13X9X2 inch greased and floured pan.
Sprinkle butterscotch chips over top before baking.

Bake at 350 degrees for 40 to 45 minutes or until toothpick inserted in middle comes out void of any cake batter.

Note

For best result, use firm apples that retain their shape when baked like Granny Smiths.