South of downtown Nashville, near the Nashville Zoo at Grassmere, is a little piece of Cuba.
The Back to Cuba Cafe may not be much to look at from the outside, but you should not judge this book by its cover. Inside, the cafe is clean and reflective of the Cuban cuisine. There is a "game only" checkers table at the front, several tables along one side and a large counter where you order and pay.
While some of the desserts and drinks are visible on the counter, the menu is on the wall behind the counter. It displays the specials, as well as the regular offerings.
Arriving after lunch, but before dinner, there were only a few other patrons. As we were headed home after visiting the zoo, we placed our order to go.
I ordered the Cuban sandwich. It was delicious! The ham on the sandwich was divine. The bread was wonderful… Okay, you get the idea.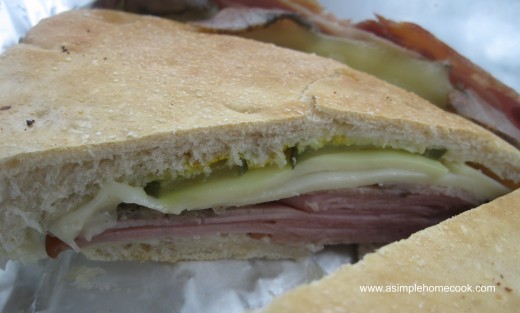 My husband ordered the "Miami" sandwich. I thought it was one of the least true Cuban offerings on the menu, but to my surprise, it is what he ordered. As we decided to each trade a half of our sandwiches with the other, I can say it was also very good…but I liked the Cuban better 😉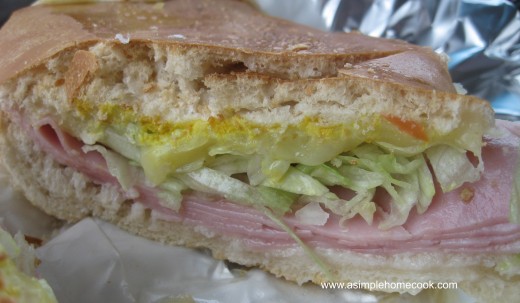 Both of the sandwiches were very large. We ended up taking at least a whole sandwich (albeit some of both combined) home. My husband took them for lunch the next day. He said they were even better the next day! He ended up eating all that was left 🙁
My daughter ordered the black beans and rice. They were the only disappointment. My daughter is a real fan of black beans and rice, but she, uncharacteristically, hardly ate any of the beans. After we both tasted them, we understood. As I have never had Cuban black beans before, I don't know if they are prepared differently or if these were just not done very well. Either way, no one ate many of the black beans.
The service was prompt and courteous. The sandwiches are made to order and do take several minutes to prepare.
Next time, we want to try the coffee and the milk shakes. They looked and smelled great.
Although it may be the only Cuban restaurant in the Nashville area, I am certainly glad for this taste of Cuba.
Interested in learning more about our experience and the Nashville Zoo? Read more about it by clicking here.

Back to Cuba Cafe