Arriving just after they opened on a Sunday, we were the first patrons in Bakersfield on Massachusetts Avenue. Edison bulb pendant lights with industrial wire looking enclosures hanging throughout the restaurant were the first things that caught my eye…I love Edison bulb pendants. The next thing I noticed was the bar and the variety of seating available. Although there were high ceilings and the decor had a fun vibe, the seating areas seemed cramped.
We were seated at a one of three or four long wooden tables with matching benches…picnic-style tables. The seating worked in the space and for our group of three adults and three kids.
Although I would not take kids to Bakersfield any later in the day than early afternoon, it is indeed "family-friendly" during the day. The friendly server even offered cheese and/or chicken quesadillas for the kids that were not menu items, and they did appeal to the kids more than the menu's tortas and tacos.
The adults ordered tacos. They use house handmade tortillas, which are smaller than many of the standard fare tortillas. However, the adults were all very satisfied with two tacos a piece and splitting an appetizer of chips and queso between the six of us.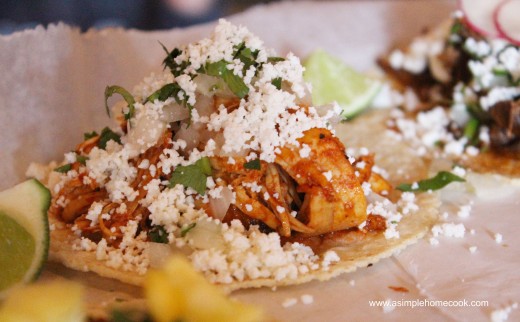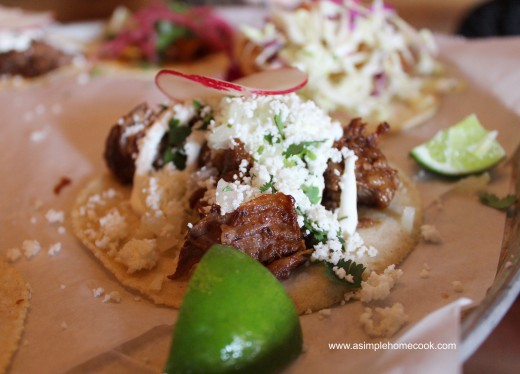 I ordered the short rib (bottom photo) and the fish tacos. Both were very tasty. I am a sucker for braised short rib, and I was not disappointed. However, I have rarely found a fish taco that I really like (I was trying to be healthier), but this one was delicious.
My sister and/or her husband also ordered the pollo rojo, the pastor, and the mole. Everyone seemed to enjoy their taco selections.
The kids favorite was the chips and queso. It was not the typical the pourable white cheese that is served in many Mexican and Tex-Mex restaurants. It was a baked or broiled cheese dip.
It was my brother-in-law's idea to go to Bakersfield for "brunch," and it was a good one. He also made a good call in ordering the chips and queso for the table. Of course, he had eaten at Bakersfield a few weeks before on a business trip to Indianapolis for his work in Cincinnati.
What he did not know at the time was the irony of him waiting to go back to Indianapolis to eat at Bakersfield again. He could have driven just a few miles to the Over-the_Rhine area of Cincinnati and gone to the original Bakersfield. Yes, Bakersfield was started in Cincinnati, Ohio. Its second location is Indianapolis and there's one in Columbus, Ohio.
So if your in any of these cities and are in the mood for some tacos, tequila, and/or whiskey, Bakersfield is worth a try.