Inspired by a dessert my daughter and I shared at a local Latin American restaurant that closed a couple of years ago. I decided to use some of an abundance of tortillas I had to make a tortilla wrapped banana dessert.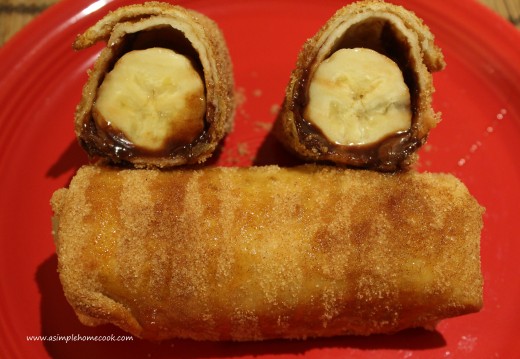 As I only had my sketchy memory to go by, I decided to make it my own and combine the wrapped banana with elements from one of my favorite "Mexican" dishes from my high school days, "fried ice cream." Thus, I rolled the fried wrap in a cinnamon and sugar mixture and drizzled it with honey. Yum!
I do not remember what the restaurant called it, but I know they did not call it a banana chimichanga .  Since it is a lot like a burrito and it is fried, I thought the name chimichanga fit.  Update: My daughter tells me the restaurant called it a fried banana split and they did serve it with ice cream.
Ingredients
Bananas
Tortillas, taco size
Chocolate Spread (Chocolate, Chocolate-hazelnut, Chocolate-peanut butter, etc.)
Cinnamon
Sugar
Mild Oil for frying (Canola, Sunflower, Safflower,Grape seed, etc.)
Honey
Whipped Cream or Ice Cream, optional
Instructions
Smear the desired amount of chocolate spread about 1/3 of the way from the edge of a tortilla leaving at least 2 or 3 inches from all edges.
Place 1/2 to 2/3 of a banana on or next to the chocolate.
Roll the tortilla around the banana as you would roll a burrito, Fold in the edges of the tortilla at the ends of the banana. Then, fold over the edge closest to the banana until it is against the banana. Roll the banana toward the other edge to make a closed burrito form.
Use toothpicks to secure the final edge.
Combine cinnamon and sugar in a shallow dish that is big enough to accommodate rolling the wrapped banana around. The ratio of cinnamon to sugar is best suited to person taste preferences. A common cinnamon rich ration is 3:1, 1/4 cup sugar to 4 Tsp. cinnamon. Ranges vary from 2:1 to 9:1 in some recipes.
Heat enough oil into a deep skillet so that the oil is about half of the height of the wrapped banana, approx. 3/4 inch.
Heat the oil on medium to medium-high.
Drop a small piece of tortilla into the oil. When it rapidly bubbles, carefully add wrapped banana to the pan.
Using tongs, turn the wrapped banana until all sides are browned. It will not take long for a side to reach golden brown. When browned on all sides, remove from skillet and place on a paper towel lined sheet or plate.for just a few seconds to drain a little.
Roll in mixture of cinnamon an sugar while still very hot from being fried.
Place on serving plate and drizzle with honey.
Serve warm with whipped cream or ice cream, if desired.
https://www.asimplehomecook.com/banana-chimichanga/
2017