A favorite at parties and potlucks, the barbecue smoked sausages are easy, quick, and crockpot friendly.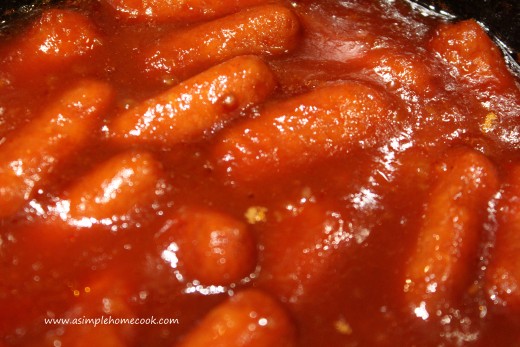 While opening up a package of cocktail-size little sauasages is the quickest method, you can also just slice any smoked sausage (preferrably good quality sausage) to use for this tasty dish.
Ingredients
3/4 c. ketchup
1/4 c. honey*
1/4 c. brown sugar
2 Tbsp. Worchestire sauce
2 Tbsp. minced dried onion
salt, to taste if desired
1 to 2 packages of smoked sausage, cocktail size or sliced larger
Instructions
Combine all ingredients except smoked sausage in a crock pot.
After mixing sauce together, add sausage.
Cook on low for 3 hours or high for 1 hour or until onion is soft and sausages are heated through.
Serve warm directly from crock pot or on toothpicks.
https://www.asimplehomecook.com/barbecue-smoked-sausages/
2017