Berry (or Cherry) Angel Delight is a delicious dessert that can easily be made without heating anything. Plus, this crowd pleasing dessert takes just minutes to throw together. It just needs to chill out for awhile in the refrigerator before serving. Thus, it is one of my go-to desserts.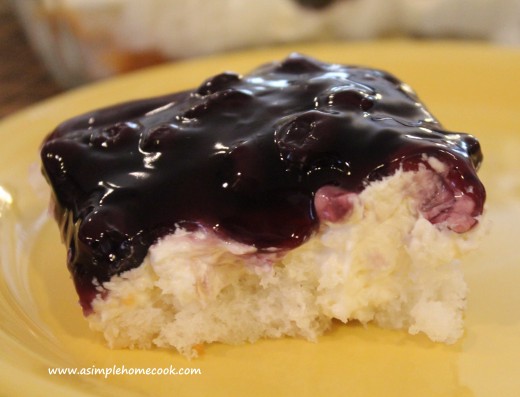 My mom would frequently make this dessert (always with cherry topping) to take places…and occasionally to eat at home. I remember even making it at Girl Scout camp when she was the leader. Of course, for this type of dish Mom did not use a recipe. This lack of a written recipe has lead to my younger sister and I having differing memories/opinions of exactly how to make the dish.
While we both agree that on the basic ingredients, I believe Mom also used sour cream. My sister does not. There is evidence to support my sister's belief. I found a recipe in one of my community collection recipe books that sounded much like the dessert Mom made (its name was different) and it did not call for sour cream. Despite this evidence, I think it is possible my mom's version used sour cream. Why? Well, my mom did not use sour cream in dishes very often and its rare use made it more memorable. Which way is correct? Well, I have made it with and without the sour cream in recent years. It is yummy either way.
I must admit that I do prefer using sour cream. No, it is not because I just want to be right. I just like the slight sourness to tone down the sweetness. Yea….I am not so sure I would have thought that way as a child either.
Here is the recipe with directions to make with or without the sour cream…the choice is yours.