It is the first day of July…the first day of National Ice Cream month.
I can't think of a better way to start off one of the hottest months of the year here and a celebration of the frozen delight than with a yummy banana split.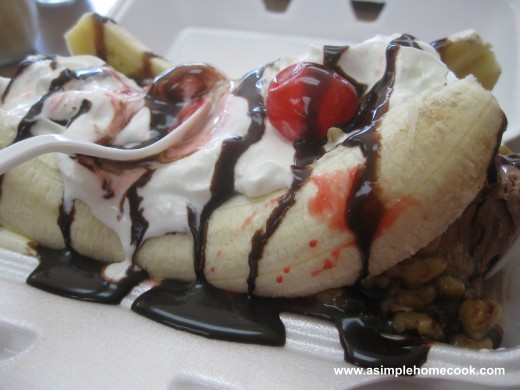 Although I don't get them often, one of my favorite places to buy a banana split is in the St. Elmo area of Chattanooga, Tennessee at Mr. T's Pizza. The large scoops of your choice of ice cream(s) loaded with all the toppings makes for a delightful treat.
We opted for a simple trio of vanilla, chocolate, and strawberry ice creams for the banana split pictured above. However, you can select from any of the yummy flavors of ice cream on their menu.
We opted for all the toppings, thus the ice cream scoops are topped with pineapple, strawberry, and walnuts. The chocolate syrup is squeezed over the whipped cream covering all of the scoops and the three cherries. What? You don't see three cherries? Well…my daughter could not wait until I put the banana split down on the table even before she started eating it, thus no nice looking picture of the dish.
Mr. T's is located near tourist attractions. It is across the street from the Incline Railway at the base of Lookout Mountain and on the way to Rock City atop Lookout Mountain as well.
They also have decent pizza and decent prices. The banana split costs around five dollars…but remember it is very large. As with other nearby businesses, it is locally owned and frequented by locals and visitors alike.
Even if your not going to be near Chattanooga in July, you can still enjoy a great banana split anytime of the year at Mr. T's.