Inspired by a recipe from my experience at the Taste of Home Cooking School, I decided to make a Big Dutch Baby in a more of a traditional method than than the puff pancake recipe demonstrated as part of the school.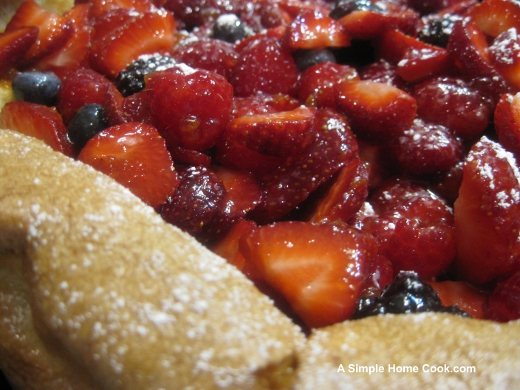 The Dutch Baby is also known as a German Pancake. It is not Dutch, but seems to be an American version of a German recipe.
Although Dutch Baby is often referred to as a pancake, it really does not taste much like a pancake. (For full disclosure, I really do not like pancakes–it is a texture thing, but I love Dutch Babies) The eggs are a much more prominent flavor and texture in the Dutch Baby.
This recipe is a Big Dutch Baby because it is not cooked in individual portions as a Dutch Babies often were cooked. The recipe that follows can easily be cut in half to serve fewer people as it really is best eaten warm. I don't think this is the best dish for leftovers.
The recipe for the Big Dutch Baby itself is heavily based on the recipe found at whatscookingamerica.net. The fruit topping is a version of a familiar fruit topping that was presented at the cooking school.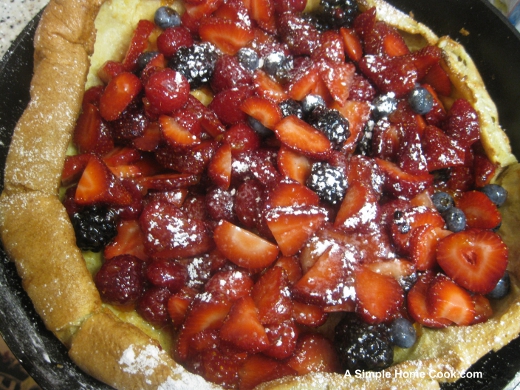 Recipe: Big Dutch Baby with Berries
Ingredients
6 eggs
1 c. milk
1/4 tsp. vanilla
1 c. bread flour (or all-purpose flour)
1/2 tsp. cinnamon
3 – 4 Tbsp. butter
1 lb. strawberries
1 pint other berries (blue, black, raspberries)
1/3 c. preserves (apricot, peach, mayhaw, currant, etc.)
Confectioner's sugar
Instructions
Bring eggs and milk to room temperature either by leaving set at room temperature, or putting eggs in warm water and heating milk in microwave for 15 – 20 seconds.
Preheat oven to 425 degrees F.
Place butter in cast-iron skillet or other oven proof skillet. For this entire recipe a 10-inch skillet worked well.
Put skillet in oven on bottom rack or near bottom until the better melts and skillet gets hot (the butter will probably brown some).
Meanwhile, beat eggs until light and fluffy in a large bowl or blender.
Add milk and vanilla, beat more.
Add dry ingredients and beat for 3 – 4 minutes longer.  The batter will be very smooth and runny.
Remove hot buttered skillet from oven and pour batter in it.
Bake in skillet for 20 – 25 minutes.
Do not open door until the dutch baby could be done as exposure to air will cause it to fall.
As dutch baby cooks, prepare berry topping.
Clean and slice strawberries and mix with other cleaned berries.
Heat preserves in a pan or in the microwave until they are runny.
Pour over berries and gently stir the berries to coat.
Remove dutch baby from oven when very golden brown around edges and center looks cooked.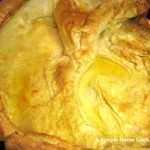 Either leave in skillet to serve or slide on to a platter.
Place berry mixture in fallen center.
Dust with confectioner's sugar.
Serve warm.
Quick Notes
Recipe may be cut in half to serve fewer people.  If you do, be sure to use a smaller skillet or pan.
A pie plate may be used instead of an oven-proof skillet.
Cast-iron is often used because it retains heat well, thus helping the dutch baby to rise.
Individual-sized dutch babies may be made using this recipe by putting the batter into small skillets or dishes instead of a larger one.
If skillet is too small or too large for amount of batter, the dutch baby will raise differently.
The heat and melted butter both are needed to get the dutch baby to puff up.
Variations
Berries may be omitted and fresh lemon juice (and more melted butter, if needed) put in center instead.
Other possible toppings include bacon, sausage, syrups, sauteed mushrooms, onions, etc.