On a cold, dreary day warm soup can be so comforting. It is even better when it is a delicious, healthy, and inexpensive soup.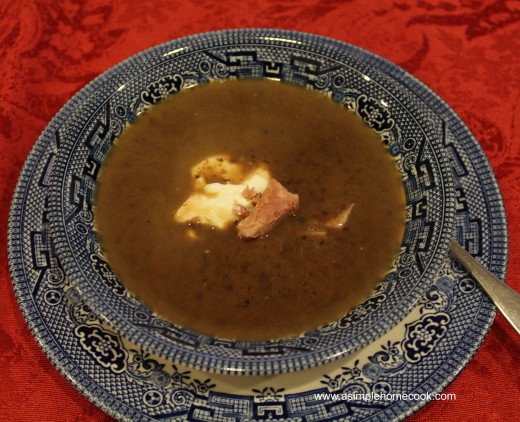 Black bean and ham soup is surprisingly easy to make especially considering how splendid it tastes.
I made a few changes to a recipe I found in The Greenbrier Cookbook. Like other soups recipes, you can easily make substitutions and omissions and still have a great end product. For example, if you'd like a vegetarian option, just omit the ham and used vegetable broth. For a vegan option, just additionally omit the sour cream.
If your in a rush and don't have hours to let the soup cook, there are a couple of short cuts you could use. First, you can cook the soup in a pressure cooker. Just follow the same directions through adding the stock, beans, and seasoning the same in the base of your pressure cooker. Add the lid to the pressure cooker (follow your pressure cooker's instructions), raise the temperature and bring to pressure (high). Once at pressure, lower the temperature and cook for about 22 minutes. Use the natural release method (see you pressure cooker's instructions), and resume following recipe instructions at removing the bay leaf.
Second, you can use canned black beans. You'll need two or three 16 oz. cans of black beans, drained and rinsed. Follow the recipe directions as stated, but you'll not need to cook as long. This method works, but I personally think the taste is compromised a little by the lack of time for flavor infusion (the pressure cooker kind of forces the infusion).
Whatever method you choose, enjoy this high fiber, yummy soup!