Thankfully, my family really like beans.   They are a great source of soluble fiber, protein, folate, magnesium, and other minerals. They also have no cholesterol and are low in fat. While I really like and appreciate all of the great nutritional facts about beans, I really love that they are very inexpensive and can taste great…especially if you buy and cook dried beans.
When you cook dried beans by the pound, you usually have a lot of leftover beans to store in the refrigerator or freeze.  I see this as an opportunity to feature beans in  at least three different dishes the week I cook the beans.  I love to substitute them for meat in lasagna, make them into soup, and make black bean patties.
Black bean patties are quick and easy to make. . .once you figure it out.  There is a rather thin line between having a bean burger that falls apart from one that is too mushy on the inside…being able to sit on that line is the key to a tasty burger with a pleasant texture.  Using black beans that you cooked from dried beans instead of ones from a can helps to make reaching that line easier; however, you can make it when using canned beans also.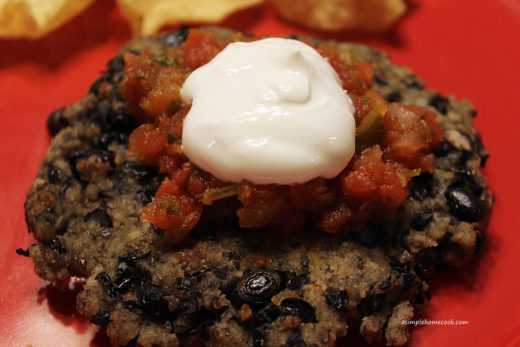 If you use canned beans, drain and rinse the beans well.  Once excess water is off the beans in the strainer or colander, lay out the beans on a baking sheet lined with layers of paper towels to dry more before proceeding with the recipe.
Here is my favorite way to make black bean patties or burgers:
Ingredients
14 oz. cooked dried black beans or 2 15 oz. cans black beans, drained
2 eggs
1 c. panko bread crumbs
1 to 2 Tbsp. grated onion
1 to 1 1/2 tsp. adobo seasoning blend or a mixture of salt, garlic powder, paprika, oregano, and cayenne powder
1 Tbsp. olive oil and/or butter
Instructions
Pulse 2/3 of the black beans in a food processor until the beans are semi-smooth (still has texture). I you don't have a food processor, a hand blender, potato masher, or fork can be used.
Take remaining beans and place them in a large bowl, slightly squash the bean with a fork or potato masher.
Add all of the beans to the large bowl and stir until evenly distributed.
Add eggs, bread crumbs, and onion, stir until combined (hands usually work better than a spoon).
Season mixture.
Add olive oil and or butter to a skillet on medium heat.
As the oil/butter heats, form the bean mixture into desired size patties (I make 4 to 5 inch patties that are on the thinner side).
Place patties in the skillet and cook on medium heat about 4 to 5 minutes each side, until lightly browned and firm.
Serve as a patty with favorite toppings like salsa, sour cream, guacamole, etc. or on a bun with hamburger toppings.
https://www.asimplehomecook.com/black-bean-patties/
2017