Every year close to Christmas many grocery stores in the American South start selling "fresh" black eyed peas and increase their stock of collard greens in preparation for New Year's Day. Black eyed peas and collard greens are said to represent coins and dollars, which when consumed on New Year's Day will bring you fortune throughout the year.
Having lived in the South for close to a decade, I decided we should give in and have black eyed peas….with our cabbage (I am not abandoning my cultural heritage and traditions, just adding to them).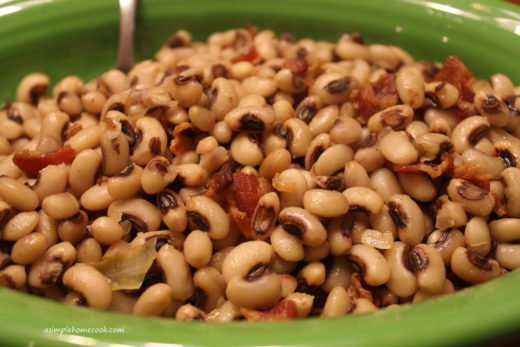 Black eyed peas were not something that was often found at our dinner table when I was young (okay, they weren't found on my table most of my entire life). My older half-sister loved them, so we only had them when she was with us. Although I don't remember how my mom cooked them, I do remember that I really did not like them.
While searching for a recipe, I decided just to make them with some of the same ingredients I was using to make the cooked cabbage. The result was the best black eyed peas I have ever eaten.
Ingredients
12 oz. (to 14 oz.) COOKED, fresh or dried OR FROZEN OR CANNED lower sodium BLACK EYED PEAS
1/2 Tbsp. bacon fat
1/2 Tbsp. unsalted butter (or just use 1 Tbsp. of bacon fat OR butter)
1/2 sm. onion or shallot, diced or minced
1/2 c. low sodium vegetable or chicken stock or broth
1 Tbsp. cider vinegar
1 Tbsp. brown sugar
black pepper, to taste
salt, to taste
red pepper flakes, optional
2 or 3 slices of bacon, crumbled
Instructions
Drain and rinse if using canned peas.
In a medium skillet or pan, heat bacon fat and butter until the butter has melted.
Saute onion/shallot in melted fats until it is soft.
Add black eyed peas and stock.
Bring to a boil.
Add vinegar.
Season with salt and pepper to taste.
Simmer (medium heat) for about 15 minutes (or longer).
Serve warm.
Notes
Black eyed peas, like other field peas and beans, will not soften once they are exposed to salt and acid (salt, vinegar, ketchup, etc.). You need to make sure you cook the peas until the desired tenderness in water as directed on packages before using them in this recipe.
https://www.asimplehomecook.com/black-eyed-peas/
2017