The Bluegrass Grill was on my list of places to try since the early, cold winter weekday morning (especially cold for the South) that I saw people lined up out the door as I drove past. I thought that they must have something especially good to get people in Chattanooga to brave the cold. Well, it took me close to a year, but I was finally able to dine at the Bluegrass grill. Thankfully, it lived up to my expectations in almost every area.
Our group of five was able to be seated as soon as a table was expanded, which was just after our 11:00 a.m. arrival for an early lunch. Although the restaurant is not large in area, the number of tables kept the two person wait staff bustling. However, our order was taken relatively fast by a very pleasant employee.
The only issue came after our taken. It took 45 minutes to get our food after we placed the order. Don't get me wrong; I did not anticipate ultra-quick, fast-food service. I did believe that we could order, be served, eat and pay within the hour that we had for lunch considering there was no line and a few empty tables. The delay in getting our food would not have bothered me quite as much if I had not noticed other tables that came in later than us getting their food first. I would have understood if even one member of our group had ordered something unusual or something that required extra time, but we that was not the case.
Luckily, when the food came it was as wonderful as anticipated. Everything tasted like it was scratch made with fresh, quality ingredients.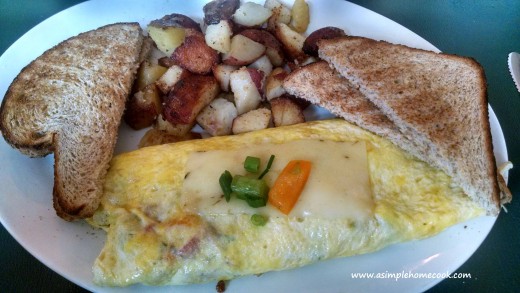 I must say that I was a little skeptical about the biscuit when I saw the description of a mix of white and whole wheat flour, but it was fantastic! No wonder that most of the people in the restaurant had ordered them.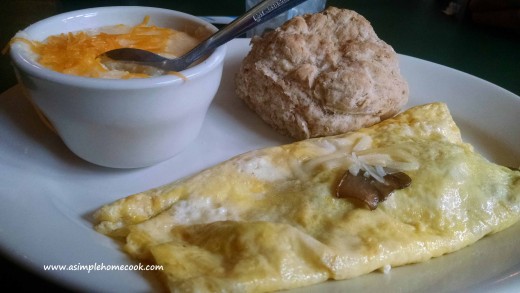 The mushroom omelet is usually the breakfast I order to comparatively evaluate a restaurant, so I ordered it for lunch. It was the top two or three that I have ever eaten in a restaurant.
When I go back I am going to order what my daughter ate, a black bean burrito. I noticed that everyone at the table next to us were were eating them when we placed our order. My daughter loves breakfast burritos and black beans and she loved this one. (It is barely visible in the picture as it is on the other side of the grits and fruit.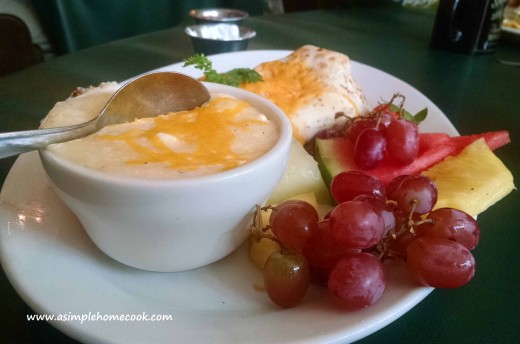 I highly recommend trying Bluegrass Grill if you are in Chattanooga for breakfast or lunch. They are open from Tuesday through Saturday. The food is fresh and wonderful. The menu offers something for everyone including vegetarians and those wanting classic southern fare. The service is friendly and busy. Just make sure you allow for plenty of time for the experience in case my experience was not the exception and/or there is another long line out the door like on that cold winter early morning that I first drove past.