Although I am more of a pressure cooker kind of person, I do occasionally plan far enough in advance to use my crock pot for a slow cooked dish or meal. Braising a lesser cut of meat is an excellent use of a crock pot.
It is amazing to me that you can take a really tough cut of meat and turn it into something tender and delicious by simply by slowly cooking it in a liquid.
Lamb shanks are one of the most noticeably transformed meats I have ever made.   When I look at the raw product, it is hard for me to believe that it will ever be edible…let alone really good.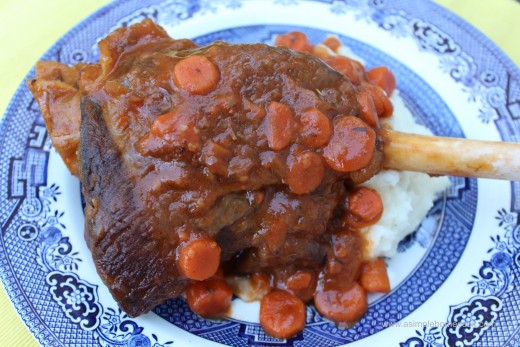 Braised lamb shanks in a rich sauce served with mashed potatoes or parsnip puree is one of the ultimate hearty, colder weather comfort foods.
Although it is a very tough cut of meat, many people do not think of any cut of lamb as inexpensive.  However, it is relatively inexpensive compared to other cuts of lamb and many cuts of beef.   Because we purchase our lamb from a local farmer, we often buy it by the half so the cost is the same as the rest of the lamb for us.
Most recipes call for one shank per person.   If you are dealing with larger shanks (or shanks of mixed sizes), you might find one shank is plenty to feed one adult and one child and even have some leftover.  Leftover lamb shank (and other braised meat) is wonderful the next day.