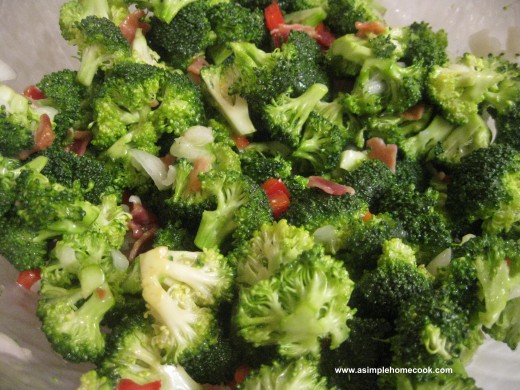 One of my favorite dishes for potlucks, holiday dinners, or, well…anytime is broccoli salad.  It is versatile, colorful,  delicious, and not complicated to make.
Although I usually buy broccoli by the bunches to make the salad, I found a great deal of pre-cut broccoli florets that were fresh. Despite my trimming many of the florets even further and cutting some of them into smaller pieces, it was a great time saver.
Obviously, broccoli is one of the necessary ingredients to make this broccoli salad, the sweet and sour dressing is another, and I think a little bacon is a must.  Other than these three ingredients, you can make the broccoli salad with whatever you have on hand or what appeals to your tastes.  I like to limit the additional ingredients to three or four to keep it kind of focused.   Here are some of the items I have used in the salad:
diced sweet onions (usually included)
grapes
raisins
dried cranberries
sweet peppers
shredded cheddar cheese
almonds (slices or slivers)
walnuts
pecans
sunflower seeds
sliced celery (not my favorite addition in this salad)
You can make as much or as little salad as you would like just be sure to adjust the amount of dressing you make and apply.  I like to start by making the amount of dressing in the recipe and putting it in the refrigerator while I am working on the rest of the salad.
The recipe that follows is for the salad pictured above…a red and green Christmas version.
You can even turn this broccoli salad into broccoli and cauliflower salad by adding cauliflower florets with very little stems as well.
Enjoy!