Butter and Cream in Decatur, Georgia exemplifies everything that is wonderful about a local food business. Great food, friendly attentive service, and an immaculate store.
They scratch make small batch ice cream at their store location. Not only do they make the ice cream base from fresh ingredients, they also make the baked goods and candy that they put in some of the flavors. This attention to detail and quality is very apparent when you taste their ice cream.
The wonderful aroma of the baked goods and candies was very apparent upon entering the shop.  Unlike most other small batch creamery shops I know, Butter and Cream also sell their baked goods and candies.  A small shelving display sits so that you walk past it to get to the line for ice cream.  I noticed it was too much for several other patrons to pass by without making a purchase the day we were there.
Having successfully shown restraint passing the stand of goodies, we got into a quickly moving line to order our frozen treats. While standing there reading the menu board, I think I heard my dairy-allergic husband give a sigh of relief that they offered sorbet. On the other hand, my daughter wanted a scoop of almost everything she read on the menu. Luckily, she had it narrowed down to just a couple of flavors before we were next at the counter. I was relieved when I found out that they offered a free taste before you purchased as my daughter had decided on flavors that she had never had in ice cream before.
I took advantage of the free taste to try "Honeycomb Forest." It was wonderful, but I decided to go with the classic butter pecan to be able to better compare Butter Cream to other ice creams. It also was wonderful. It was the best I have had in a very long time…if not ever.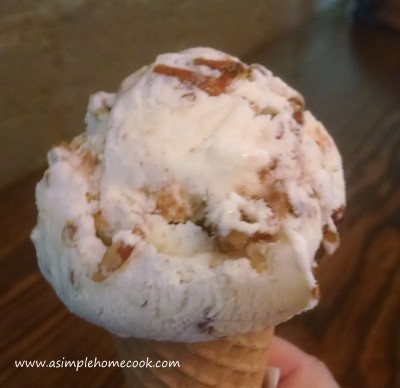 Despite how good the butter pecan ice cream tasted, I kind of regretted not getting the Honeycomb Forest because it was wonderfully delicious and different.
My daughter and husband really enjoyed their selections as well.  My husband was particularly impressed with the taste and texture of the strawberry sorbet.  He pointed out to me that many sorbets, even at small batch shops, sometimes lacked either a good flavor or a good texture…sometimes they lacked both.
No review of Butter and Cream would be complete with out talking about the cost.  The value of the Butter Cream's ice cream and sorbets was actually very good.  I would expect that a scoop made from scratch using the quality of ingredients that they do to be quite expensive, but it was not.  In fact, it was less than a small batch creamery closer to home that we occasionally frequent.
If you are in Decatur or the Atlanta area, it is worth checking out…even if you need to hop on the MARTA to get there…a station entrance is very close to the store.  You  should get a scoop of the Honeycomb Forest for me.