Whether you eat candied sweet potatoes as a side dish or as dessert, candied sweet potatoes are a sweet and delicious treat. The sweet potatoes not only bring great flavor, but nutrients and fiber to this classic dish.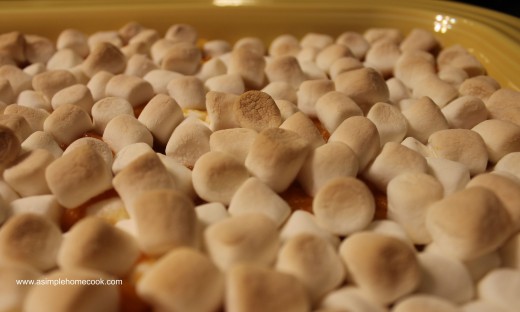 As I make this version of sweet potatoes only a couple times of year at my house, it is seen as more of a special treat that is eaten instead of dessert. Although it is the version I have been making for my husband for nearly a decade, I sometimes give it a slightly different twist that started as the result of a mistake.
My daughter was "snacking" on the miniature marshmallows and did not close the bag when she was done. Thus, the marshmallows were somewhat dried out before it open bag was discovered. I went ahead and used them anyway. The result was a topping of crispy, toasted marshmallows instead of the more gooey standard marshmallow topping. The crunch provided a nice textural difference that we liked and my daughter loved.
If you want this effect, just leave your marshmallow bag open for a few days or better yet, measure out the amount you want to use as a topping and spread them out in a dish or sheet to dry for a day.