My daughter was having a difficult time deciding what kind of cake she wanted for her birthday, so I suggested that she decide what type of icing or frosting she wanted first then we could figure out a cake that went with it. So, I started naming over all the frosting and icing types I had ever made.  She finally stopped me when I said caramel.  Of course she picked one that could be tricky…she is my daughter.
We decided to make a banana cake to go with the caramel icing.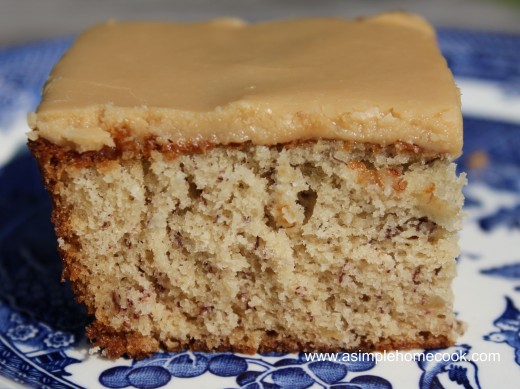 I knew that I did not want to make the recipe that started with burning white sugar, so I turned to a cookbook my maternal grandmother used, the 1940-something Watkins Cook Book.  Its recipe called for a mixture of brown and white granulated sugar, but not any confectioner' s sugar.  It was just what I wanted:  easier and old fashioned.
I made a couple slight adjustments by adding more vanilla and using half-and-half instead of milk.   Otherwise, it is the Watkins recipe.
The recipe makes enough to fill and icing a cake on the top and sides.
I should warn you that this icing is very sweet. A thin layer is really all that you need. It is kind of like pouring/spreading penuche fudge over a cake. In fact, my daughter found the icing a little too sweet 🙂