I made two versions of caramelized bananas after being inspired by a show on TLC where the "Cake Boss" made a similar dish as a version of bananas foster. I made an alcohol free version and one with leftover amaretto from making Amaretto Cherry Bread.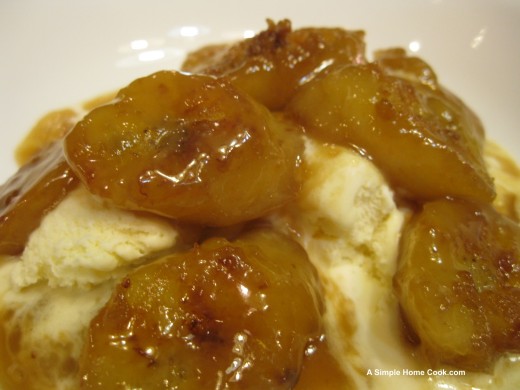 I must say the amaretto version tasted better and did not have any alcohol taste with out any flambe. The alcohol boiled as soon it hit the hot skillet leaving only a light taste of amaretto flavor behind. Yum!
This measurements for this recipe do not need to be accurate. You need to add amounts to fit your preference. Have fun!

Recipe: Caramelized Bananas
Ingredients
2 bananas, sliced at an angle
2 Tbsp. butter
1/3 c. light brown sugar
amaretto
2 oz. heavy cream
Instructions
Melt butter in a large skillet.
Have temperature on medium high and add bananas.
Cook until lightly browned on both sides.
Add brown sugar (and more butter if needed) in the skillet until it is softened/melted.
(Optional) Remove from heat and add amaretto. (Could flambe at this time if you are so inclined and add enough amaretto). Amaretto should immediately boil.Return to heat and cook for about a minute.
Remove from heat and add cream to hot skillet.  Cream should boil immediately.
Stir until cream and brown sugar are incorporated.
Place back on heat until cream mixture has clarified some.
Serve immediately over ice cream.
Quick Notes
Amount of ingredients can vary based upon your taste.
You need more brown sugar and cream if you plan to use an ounce or more of amaretto or if your want more caramel sauce.