In the Amish Country in Ohio there used to be a little bakery is a small town that sold the best doughnuts, cakes, and bars.  It was one of the places we always stopped when I took my parents to the area.   I even knew of people who drove more than two hours just to go to the bakery.  It was indeed a good bakery.  However, it went out of business several years ago…I have no idea of why.
Luckily, my mom purchased a small booklet with some of their recipes before they shut down the business.  I have that booklet now and grab for it every time I want to make carrot cake.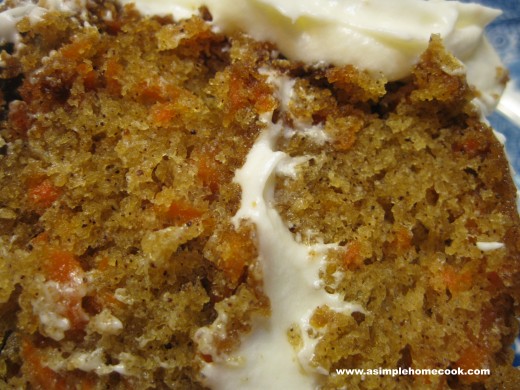 They used the same recipe to make the bars and just added raisins and nuts. I do not recommend using them in the cake version. They settled on the bottom of cake and were not very tasty when I attempted it.
Recipe: Carrot Cake
Ingredients
2 c. sugar
1 1/2 c. vegetable oil (I used canola)
4 eggs
2 tsp. baking soda
2 tsp. baking powder
1 tsp. salt
2 c. flour
2 tsp. cinnamon
3 c. raw carrots, shredded
Instructions
Cream sugar and cooking oil.
Add eggs. Beat well.
Sift flour, soda, baking powder, salt, and cinnamon together.
Add to the creamed mixture.
Fold in carrots.
Pour batter in a greased and floured baking pan. (Parchment paper highly recommended).
Bake at 350 for 30 – 35 minutes or until tester comes out clean.
If removing from pan, do so while still very hot, especially if you did not use parchment paper.
Can be eaten plain, with a glaze or with a frosting. Allow to cool completely before frosting.
Variations
For Bars: Follow directions for cake and fold in 1 c. nuts and 1 c. raisins (optional) to mixture when folding the carrots. Cook in a greased 10 X 15 inch cookie sheet. Frost when cool.
I want to make it with walnut oil instead of canola the next time.  I think it will add a complementary touch of flavor.
The cake has a great outer coating.  Works wonderful with a simple glaze.  Plus, it goes great with their cream cheese icing.
Recipe: Cream Cheese Icing
Ingredients
1/2 lb. margarine or butter
8 oz. cream cheese
1 tsp. vanilla
2 c. powdered sugar (heaping)
1 c. chopped nuts (optional)
Instructions
Cream butter and cream cheese.
Add vanilla.
Add sugar until desired consistency is achieved.
Mix until smooth.
Add nuts (optional).
Quick Notes
Icing is very creamy without the nuts.
I usually refrigerate the cake and the icing becomes harder, but is still soft enough to be a great consistency.  (I do not know if there is enough sugar in the icing to not refrigerate it…I think there may be, but I am not sure.  Thus, I usually refrigerate it).