I love cherries and I love ham, so it surprising that I did not like my mom's cherry glaze for ham. After all, other people seemed to really like my mom's cherry glazed ham. Even my dad, who did not usually like new or differently prepared foods, liked my mom's cherry glazed ham the first time she made it.
When I came across her hand-written recipe a few weeks ago, I thought I should make and share it. However, I did not have the orange juice that the recipe required. Because I really should not have orange juice anyway, I decided to just make a substitution instead. So, after considering that one substitution changed the original recipe, I decided to make further changes to see if I could find a version that I like more.
After some experimenting, I made a version that I really like…yes, even more than my mom's. Sorry, Mom.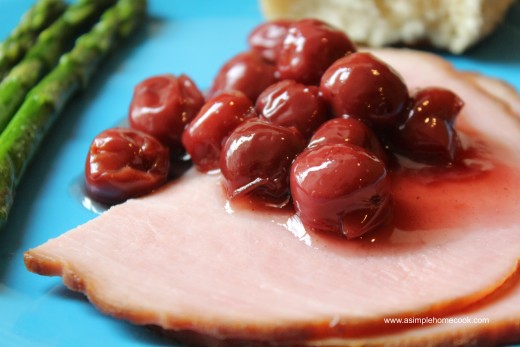 Although it could be used as a glaze, I think my version is a cherry sauce. My mom's glaze could be used as just a sauce as well.
Here are both recipes. You can pick just one, or you can try both to decide which you like better.
Either way, I hope you enjoy!