One of my daughter's favorite foods is al fresco's Wild Blueberry Chicken Sausage.  We first discovered it in a local grocery store and purchased it regularly until they stopped carrying that  flavor. The company's website indicated that they no longer sell the wild blueberry flavor in our area or even our region of the United States. In fact, the only places that seem to sell the flavor are located in the Mid-Atlantic and Northeast regions of the United States based on what I found using the company's "Find A Store" tool on their website. It just so happens that my in-law's live in Delaware and the ShopRite stores in the area stock the sausage. So, we always take a cooler when we go to Delaware and stock up…I am so thankful for the invention of dry ice.
The problem is there are often many months between our trips to Delaware and the sausage is only recommended to be kept frozen for about three months. So, I decided to try and create a blueberry and chicken dish as an alternative to the chicken sausage.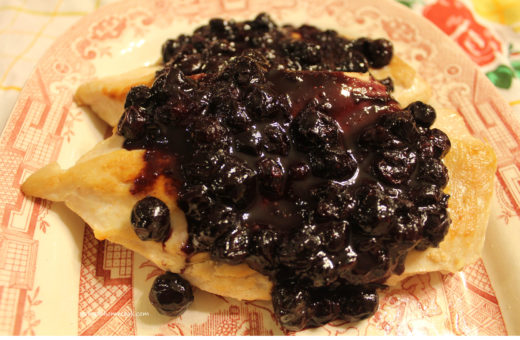 My first successful blueberry sauce does not have a similar flavor profile to the sausage.  Instead, this sauce shares the warm spices of cinnamon, allspice, and nutmeg that are often found in a blueberry pie.  Unlike blueberry pie, this sauce is savory with a light sweetness from the berries.
This dish is easy and quick.  The chicken and the blueberry sauce are cooked in the same skillet, so clean-up is easy.  The sauce comes together in just a few minutes while the chicken rests, so dinner can be ready quickly.
Chicken with Blueberry Sauce, Version 1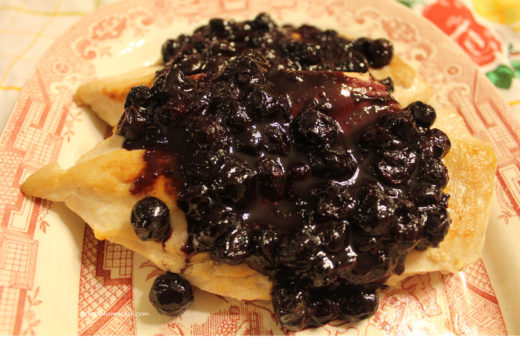 Ingredients
4 chicken split breasts or thighs, bonesless and skinless recommended
1 Tbsp. olive oil (or 1/2 Tbsp. olive oil and 1/2 Tbsp. butter)
salt, to taste
1 small shallot, minced or 1 1/2 tsp. sweet onion, minced
1/2 + c. low sodium chicken stock or broth
1 Tbsp. lemon juice or rice wine vinegar
1/2 pt. blueberries
1 Tbsp.+/- brown sugar, to taste depending on the sweetness of the blueberries
1/8 tsp. white pepper
1 tsp. cinnamon, ground
1/2 tsp. allspice, ground
1/4 tsp. nutmeg
1 pat unsalted butter (optional)
Instructions
Heat oil (and butter, if using) over med.to med. high heat in a large skillet (do not use a nonstick skillet).
Saute salted chicken until lightly golden brown and done according to an instant read themometer.
Remove chicken to a platter and cover with foil.
In the same skillet as the chicken was cooked, saucte the shallot or onion a couple of minutes until softened.
Add chicken stock and lemon juice.
Bring the liquid up to a simmer, then add the berries, brown sugar, pepper, cinnamon, allspice, and nutmeg.
Continue to cook over med. high heat until some of the blueberries burst, the liquid reduces and thickens and the blueberries soften.
If it gets too thick as it cooks, add more chicken stock or broth.
When blueberries are softened and the sauce is neart the desired thickness, you can add a pat of butter to finish the sauce. This step is optional.
Taste, add salt and adjust seasoning if neccessary.
Spoon sauce over chicken breasts on platter.
Serve warm.
https://www.asimplehomecook.com/chicken-with-blueberry-sauce-version-1/
2017