This is comfort food.  It is easy and quick to make.
I keep dried beef as one of my emergency supply staples.  I have to go through and use it every once in a while, so it doesn't expire if nothing else.   Plus, I love chipped beef gravy!
My allergic-to-milk husband is away on business, so today I decided to make it for lunch.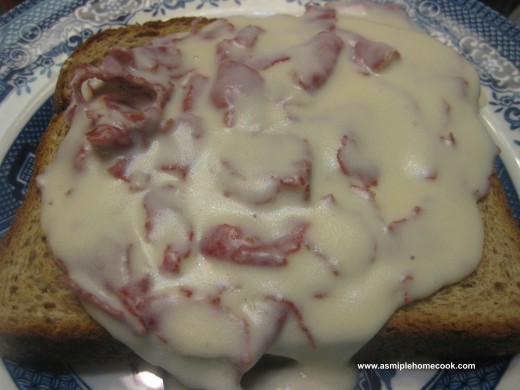 Recipe: Chipped Beef Gravy
Ingredients
1 4.5 oz. pkg. sliced dried beef
3 Tbsp. butter or margarine
3 Tbsp. flour
3 c. +/- milk +/or half and half
1 Tbsp. Worcestershire sauce
Instructions
Remove rind from beef, optional.
Rinse beef briefly in cold water and set aside to drain. Caution: The more you rinse, the less salty the gravy. You want to leave a little salt, but not too much.
Melt butter or margarine in a skillet.
Add flour and stir.
Slowly add milk.
Cut up beef into bite size pieces as you add to mixture in skillet.
Add Worcestershire sauce to taste.
Cook for 3 – 5 minutes to thicken and allow flour to cook. It will thicken as it stands.
Serve over toast or baked potatoes.
Quick Notes
I sometimes place the beef in skillet after the butter and before the flour.
I use Wondra Flour, so I do not have to worry about lumps.
  Half-and-half, whole or 2% milk makes much creamier gravy, but 1% or skim can be used.
Cooking time (duration): 10
Number of servings (yield): 6