Looking for a cake that is great to serve for a potluck or a large crowd? Want a cake that would be great for people who like chocolate, but don't love chocolate? This very easy, semi-homemade Chocolate Chip in Vanilla Bundt cake may just the answer.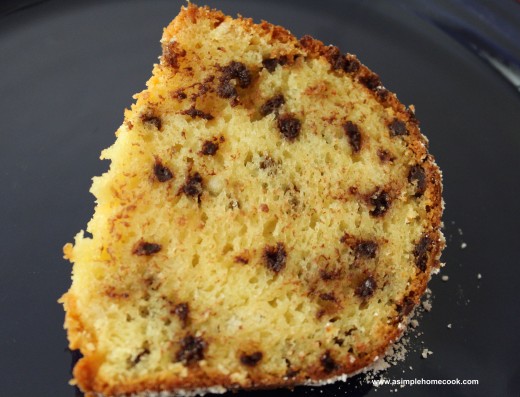 To me, this cake has about the right amount of chocolate…a nice chocolate flavor, but not overwhelming. Of course if you really love chocolate, you could always switch out the vanilla box cake and instant pudding in the recipe to chocolate flavored ones 🙂
Chocolate Chip Bundt Cake
Ingredients:
1 pkg. french vanilla, yellow, or white cake mix
1 pkg. instant vanilla pudding, small
1 c. sour cream
1/2 c. canola or vegetable oil
1/2 c/ water
4 eggs
1 Tbsp. vanilla
1 c. mini semisweet chocolate Chips
Instructions:
1. Preheat oven to 350 degrees F.
2. Beat all ingredients, except chips, in large bowl with electric mixer on low speed to moisten.
3. Beat on medium speed for 2 minutes.
4. Stir in chips.
5. Pour into greased and floured 12-cup Bundt pan.
6. Bake 50 minutes.
7. Sprinkle with powdered sugar.
Copyright 2013
Recipe by Paula, A Simple Home Cook