I am not sure what prompted my fascination with a recipe for Mousse Au Chocolat (Chocolate Mousse) I found in the French section of my mom's early 1960's McCall's Cook Book, but I find that, on some level, it still continues to this day.
I started making it as a teen for my chocolate-loving dad either on Father's Day or his birthday. I continued to make it for "fancy" meals. In fact, it was one of a few recipes that I copied into a spiral bound book of index cards to take with me when I moved into my first apartment. When I made it  I somehow felt more like an adult.
Despite it being one of my "go to" recipes when I cooked for friends early in my adult life, I did not make Chocolate Mousse for years.  One of  reasons was my concern about raw egg safety when from purchasing standard grocery store eggs. When I discovered pasteurized in the shell eggs, I started making chocolate mousse again.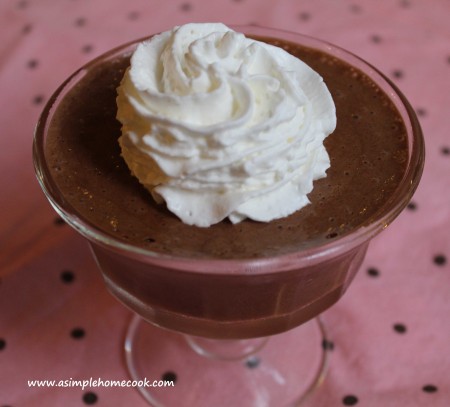 The traditional French Chocolate Mousse is a mixture of egg whites and melted chocolate. The McCall's recipe is a slight variation with the addition of some instant coffee and vanilla to enhance the chocolate flavor. I have made some modifications to the McCall's recipe as pasteurized egg whites do not whip the same as raw. I also learned to incorporate egg whites differently than the what the original recipe said.
This recipe does not require the use of a double boiler. It calls for semi-sweet chocolate, but dark (bittersweet) chocolate can be substituted. However, unless you are certain that everyone going to be eating it likes really dark chocolate, it is best to stick to 70% cacao or less. For kids (and my preference), I use semi-sweet chocolate.
This recipe is a great way to use leftover pasteurized eggs from making homemade ice cream. 🙂