Rather than have a beautiful, early 20th century church sit empty in Pittsburgh (PA), someone had the idea of turning it into a wonderful microbrewery and restaurant.  They did so in a way that left much of the great architect and details in tact instead  of making the inside like any other restaurant.  They need to be commended for brilliant work.
As you enter the vestibule, it feels as though you are entering a still operating church until you go through the second set of doors and see the open expanse of the dining area with  shiny tanks lining one wall.
The gleaming copper of the brewery some how looks at home in the altar area of the former St. John the Baptist Catholic Church.  The dining area is open so you can look at all of the stained glass windows and flat screened televisions as you eat.
The food was divine.
I could not go to Pittsburgh and not have my favorite, Pittsburgh-style steak salad.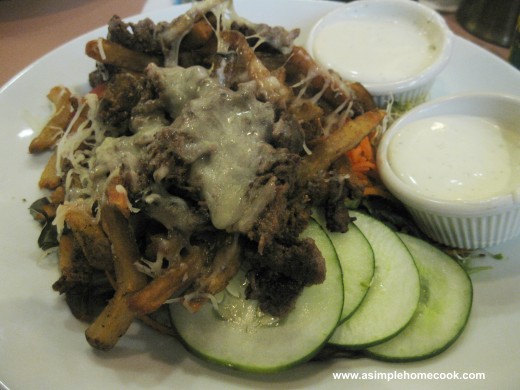 They serve theirs with a choice of protein including chicken, salmon, shrimp and of course beef.  However, their beef is Kobe beef.  It was my first time having Kobe beef; it was delicious! (I don't know if it was from Kobe, Japan, but it was still yummy).
It may not have been the prettiest dish on the menu, but it was good.  Apparently, everyone in my party thought the same thing about their selections.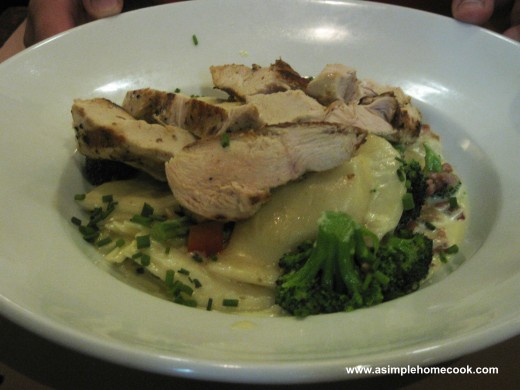 My quickly snapped photos do not do the food justice. I think (hope) that the chicken on this Pierogie dish was not pink like it looks in this picture.
As I don't drink beer, I can't really comment much on how it tasted.  Those in my party that did drink the beer said it was very good.  There seemed to be a lot of choices.  Plus, according to their website, they were voted one of the top ten venues in America to drink draft beer in USA Today.
This is not a fast food restaurant, so I would not go if I were in a hurry. In fact, that is my only complaint. A member of my party had to go and ask the greeter to get someone wait on our table. We had been there for a long time (a half an hour or so) before he went to ask. When the server came, she was nice and the rest of the lunch went without a problem. Sure, the service was not overly friendly, but this is the North… I guess I am getting too use to the hospitality of the South.
The prices were varied. Lunches ranged from nine to eighteen dollars. The serving sizes were very adequate. They even had a kid's menu. My five-year-old had a really nice looking grilled cheese sandwich.
The bottom line: Church Brew Works had great atmosphere, good food, and was a terrific place to meet and eat.
It was a great place for an even better event…seeing our grandson for the first time:) Yes, even though he is very young, he was perfectly well behaved!