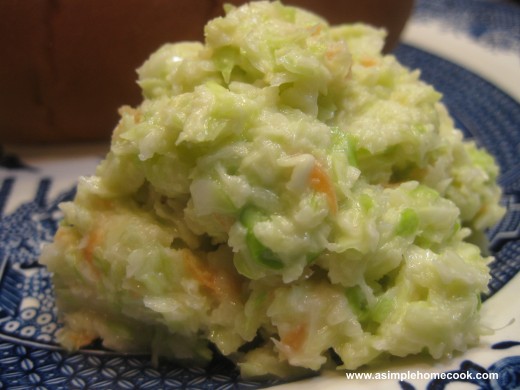 Creamy coleslaw ( or cole slaw) is a great side item with salmon or other fish, ham, barbecue, and hamburgers.  I also think it is a must-have topping for hot dogs and pulled-pork barbecue sandwiches.
The taste and texture of the coleslaw is influenced by the type of dressing and the cut of the cabbage.  Although there are many variations, the classic creamy dressing is my family's traditional recipe and my personal favorite.  Unlike some of the other dressings, it works well on both grated and shredded cabbage.
If I am going to be using the coleslaw with hot dogs, hamburgers, or barbecue sandwiches, I like to grate the cabbage.  Otherwise, I like it grated or shredded.  Frankly, shredding the cabbage is much safer for my knuckles than using a box grater…
Recipe: Creamy Coleslaw
Ingredients
1- 2  heads of cabbage
1 – 2 carrots (optional)
1 c. Miracle Whip
1/2 c. sugar
1/4 c. vinegar
1/4 c. milk
Dash of salt
Instructions
Clean and cut cabbage into 1/2 or 1/4 head pieces.
Grate or shred cabbage and carrots (if desired) into a large bowl.
In a separate bowl, mix Miracle Whip, sugar, vinegar, milk, and salt.
Add enough to the dressing to the cut cabbage to coat.
DO NOT APPLY TOO MUCH DRESSING.
Refrigerate or let stand for a few minutes before serving.
Quick Notes
Amount of dressing can easily be doubled or halved.
Size/density cabbage will influence how much dressing is needed.