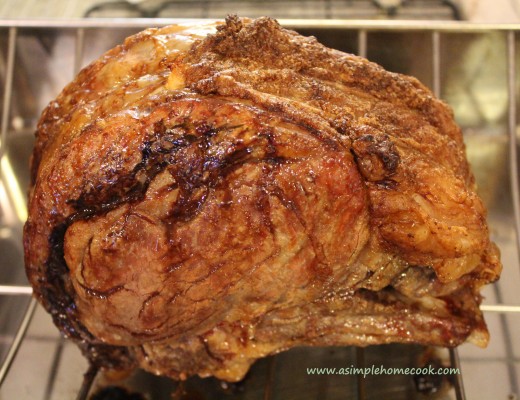 Making a classic standing rib roast for the first time can be a little intimidating because it is usually for some special occasion and can be a large financial investment. The good news is that it is actually very easy…if you have a necessary tool, a meat or instant-read thermometer.
It also helps if you have a good butcher (specialty shop or general grocery store) who does much of the prep work for you. If not, just clean a couple of inches off of the ends of the bones to expose them, if desired. You will want to leave at least 1/4″ of the fat cap on the opposite side from the bones, but you may want to trim it some if there is more than 1/2″ of fat. Finally, it is much easier to slice after cooking if you cut the bones from the meat the length of the bones, but leave the meat attached at the end of the bones. Even if you don't cut the bones from the meat, tie the meat with butcher's twine between the bones before roasting.
There are several schools of thought about what is the best temperature(s) to cook a standing rib roast. Here is what I did and it turned out well for me:

I let my standing rib roast reach 138 and it was evenly pink throughout…a great medium-rare. How long it takes to reach the desired temperature will depend upon the size of the roast. You should estimate 12 – 16 minutes per pound to reach the rare or medium-rare stage.