We celebrated our anniversary this year a day early by having lunch at Clyde's on Main in Chattanooga.  Although Clyde's on Main has been open for a year, it was our first time there.
It has a friendly, laid back atmosphere with a variety of seating options.  The decor is eclectic. It has cocktail tables made from arcade games juxtaposed with leather couches that look like they could be found in a cigar room.  There is a theater marquee above the bar,  a 50's style jukebox,  and an area with ping pong tables.  The ping pong tables are actually at the front of the restaurant near the bar.  They do have an net around them to keep the balls contained to that area and not into the bar or dining area.
This bar and restaurant is good for the entire family during the day and maybe an early dinner, but I don't think I would take any kids later in the day.  It has  a vibe that I think would appeal to a younger adult crowd at night, especially on the weekends.
The menu was also rather eclectic with an emphasis on the items being homemade or locally sourced. According to our server, the heart of Clyde's is barbecue; I guess you'd call it a barbecue bar.  With that in mind, I ordered the brisket plate.  Chattanooga has some really good pork barbecue places, but you can't find as many places offering brisket.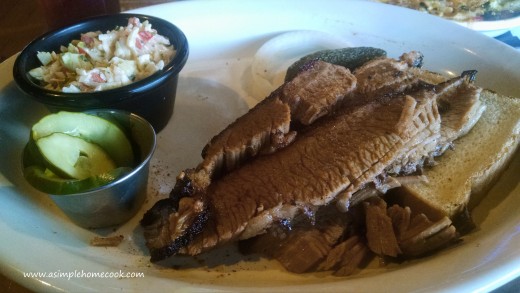 Not only was the brisket very good, I think it ranks in the top barbecued briskets I have ever eaten. It was well-seasoned, very tender and very juicy…yum. They also had six different types of barbecue sauces that were brought to the table. The sauces covered just about every major type I know of: white, sweet, hot, "Mexican," etc. I like a sweeter sauce and really enjoyed the sweet and the Mexican.
For one of my sides, I chose one of the daily specials, a macaroni and cheese. It was the only thing I did not like that I ordered. It was pasta, and peppers topped with different cheeses. It was not the creamy macaroni dish I expected and I found the amount of peppers to be overwhelming.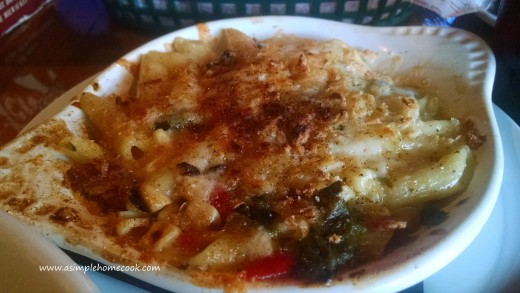 Based on our one experience here, I don't think I will order a daily special again. My husband ordered the Mexican smoked meatloaf special and he was very disappointed. I must say that just by looking at the dish when it arrived I had my doubts…the mashed potatoes and asparagus were very sad looking. It was the only other food that we had that was not thoroughly enjoyed.
My daughter wanted the soft homemade pretzels and a cup of smoked chicken chili. The pretzels were an appetizer, so we all shared.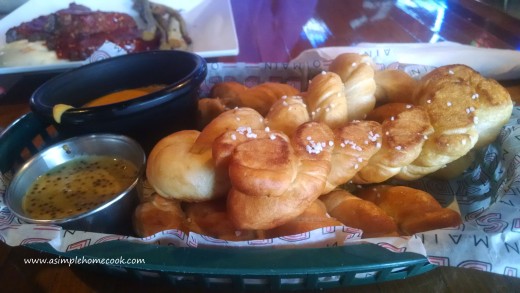 The pretzels and the homemade cheese dip were very good. My daughter raved about how great her chili tasted even after she started complaining about her mouth being on fire (she is wimpy like me) as she continued to eat it. In the end my husband finished her small bowl of chili and said it was really excellent.
Clyde's on Main is by the same owners of several restaurants in Chattanooga including Taco Mamacita. Clyde's menu hints at this fact. Even though the vibe and decor are different, there is something in the atmosphere a decor that ties all of their brands together for me…I just can't articulate it.
Clyde's is worth checking out if you are in the area…especially if your in the mood for some brisket.