The sweet taste and yellow color of corn can add some sunshine to a soup on a dreary day.  While I love it in Vegetable Beef Soup, corn chowder can really lighten my spirits on a rainy, overcast day.
This particular recipe  is a very creamy chowder uses the traditional bacon and potato base. I did modify the original recipe from McCall's Cookbook circa. 1963  a little.  It made a fairly thin chowder that I thickened some by making a roux using Wondra flour and  grease from the bacon.  Using half-and-half instead of the milk should also make it thicker.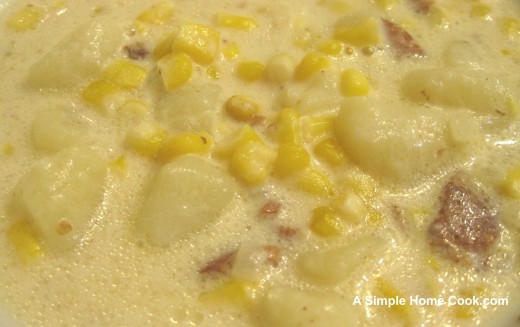 Recipe: Corn Chowder
Ingredients
4 slices chopped bacon
1 thinly sliced med. onion
2 – 3 Tbsp. bacon grease
2 – 3 Tbsp. Wondra flour
1 1/4 c. water
4 cubed med. potatoes
2 10oz. bags frozen whole kernel corn
1 c. heavy cream
1 tsp. sugar
1/4 c. butter
2 1/2 tsp. salt
1/4 tsp. white pepper
2 c. milk or half-and-half or a combination
Instructions
In a large saucepan or heavy bottomed pot, saute bacon until golden brown.
Add onion slices and cook until they are translucent.
Remove onions and bacon and set aside.
Pour off excess grease, reserving 2 – 3 Tbsp.
Add equal amount of flour to the grease and cook briefly.
Add water to roux.
Then add return onion and bacon to mixture.
Add potatoes and water.
Cover and bring to a boil.
Then lower heat and cook until potatoes are tender, about 10 minutes.
When done, remove cover and set aside.
Combine corn (partially thawed works best), cream, sugar and butter in a med. pan with lid.
Simmer, covered for 12 minutes.
Add corn mixture to potato mixture pot/skillet.
Cook on low heat for 10 minutes more or until heated thoroughly without boil.
Quick Notes
DO NOT BOIL.
Fresh corn may be used instead of frozen.
For more soup and chowder ideas,
join Soup-a-Palooza at TidyMom and Dine and Dish sponsored by Bush's Beans, Hip Hostess, Pillsbury and Westminster Crackers