Do you have leftover corned beef?  You could use it to make a Ruben casserole or one of my mom's "go to" meals, corned beef hash and hominy.
What made it a "go to" or last minute meal for my mom was that we never had corned beef except out of a can.  I am fairly sure most of the stores in my area did not sell deli corned beef and she never made it from scratch, thus the heat and eat canned variety was what we ate.  She would use it with leftover boiled potatoes or canned (usually home canned) potatoes and have a dish in a few minutes.  (She rarely used canned corned beef hash).
She would serve it with hominy either on the side or mixed into the hash.  I prefer the hominy on the side.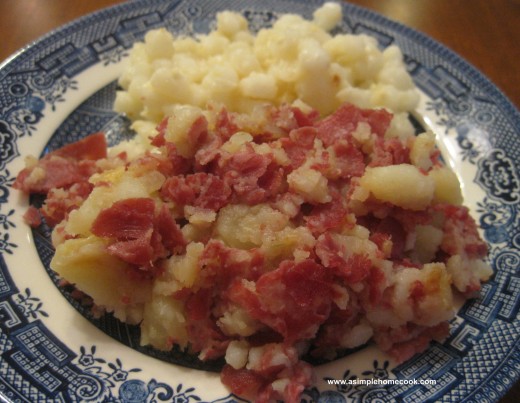 I also prefer to use either deli corned beef (pictured) or leftover home-cooked corned beef brisket.
Either type of corned beef is better in this dish, in my opinion,  if some of  it (and some of the potatoes) are browned and crisped.

I like to eat the hash with ketchup.  However, I do not like the ketchup on the hominy.