There have been very few holiday meals in my life that have not included my mom's cranberry salad.  In fact, I was surprised to discover on my first Thanksgiving with my in-laws that not everyone made cranberry salad as part of all of their holiday celebrations and ate the stuff out of a can instead.
Mom's cranberry salad has been known to convert those who did not like the canned cranberry gel into cranberry gelatin salad fans.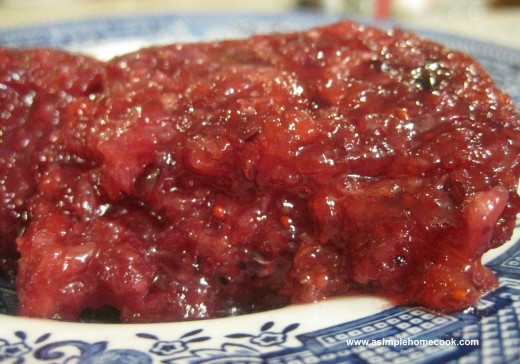 Although this is a gelatin salad, it is has so many cranberries and pineapple that the gelatin is in the background.
The gelatin flavor has traditionally been lemon or cranberry. Since Mom discovered cranberry gelatin at the grocery store, cranberry has been the preferred flavor. Unfortunately, I have not been able to buy it in recent years, except when I returned to the North to visit family. (Frankly, the selection of different gelatin flavors at most of the grocery stores near me is very limited.) Thus, I used both lemon and cherry gelatin to make it this year. It tasted just as good. In fact, I really liked the addition of the cherry flavor.
Fresh cranberries can be frozen in their store bags, at least for a couple of months, and go directly to being washed and sorted without thawing.
The leftovers keep well in the refrigerator for several days.
Enjoy!