Although it is called cranberry tea,  this beverage does not really contain any actual tea. I am not sure who came up with the name, but it really is a wonderful drink…hot or cold.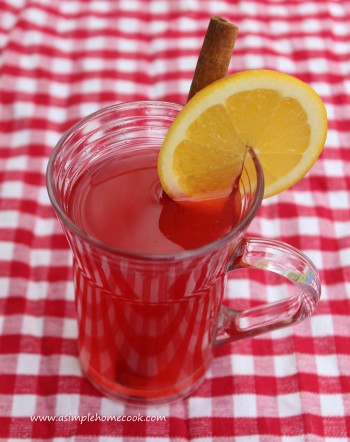 This easy drink is made from scratch using fresh fruits that are full of vitamin C…a great thing in the winter and holiday cold season. It makes enough to serve a crowd, but keeps so well in the refrigerator that you do not need to be expecting a crowd to make it.  Best of all, it taste delicious.
I changed the original recipe to fit my preferences in sweeteners and spices, but you can stick with the original version (not using optional ingredients) if you'd like…both are good.
Cranberry Tea : A Mulled Cranberry Drink
Ingredients
1 lb. fresh (or frozen) cranberries
3 1/2 qts. water
4 cinnamon sticks
12 cloves
5 whole all spice berries, OPTIONAL
2 or 3 star anise, OPTIONAL
1 c. sugar
1 c. honey (or another cup of sugar or your preferred sweetener)
2 lemons (Meyer lemons preferably)
2 oranges
Instructions
Place cranberries, water, and spices in a large pot.
Bring to a boil on high and lower heat to maintain a simmer for 15 minutes.
Strain cranberries and spices from the liquid into another pot or slow cooker.
Add sweetener while the liquid is still very hot.
Juice lemons and oranges.
Strain juice before adding to cranberry liquid.
Stir and serve warm, room temperature or cold.
Place extra in a container to store in refrigerator. It will keep a couple of weeks in the refrigerator.
https://www.asimplehomecook.com/cranberry-tea-a-mulled-cranberry-drink/
2017