This cold, rainy day makes me want some good chili. The result of that craving combined with my desire to go to Cincinnati leaves me wanting Cincinnati-style chili.
It is said to be an acquired taste. Well, I have acquired it. My favorite is the chain, Skyline Chili. I love their 4-way chili, their Coney dogs, and their deluxe burritos.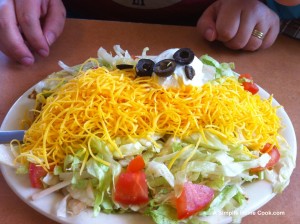 Beneath those lovely toppings is a tortilla filled with the famous chili and a bean mixture. It contains a perfect balance of wonderful spices.
The toppings themselves are terrific, especially the cheese. It a super fine cheese that has a wonderful flavor.
At 700 calories, according to Skyline's website, it is a hefty meal. However, the 10 grams of fiber does a lot to balance those calories out. It is also has the lowest sodium of all the dishes that I really like.
The Coney dogs are short, tender, tasty hot dogs topped with chili. They come with or without cheese, onions and mustard.
The chili is served over spaghetti and topped with cheese(3-way) plus onions and/or beans (4- and 5-way) can be added. Yum!
My daughter loves the kids special P-sghetti with just cheese on top. My husband, well, my husband has not acquired the taste, thus he does not like any of it really.
I did see that the canned Skyline chili has made it to my southern grocery store recently. However, it just would not be the same 🙁
Note: The opinion expressed here are just my own experiences and thoughts. I have not been compensated or solicited in any way for this review.