Every time I think of a gathering where appetizers will be served, I can't help but think of _______salad sandwiches. The ladies of my mom's social groups served ham, cheese, and chicken salad sandwiches at almost every gathering. They were usually on regular bread (sometimes with the crust cut off) or buns.
Why? I have no idea. I do think it probably had something to do with the fact that most of them were older, some of them had health problems, and they could buy decent tasting salads locally. However, it was so frequent, I vowed to try and never serve ham, cheese or chicken salad at any gathering (and I was not even at most of these gatherings).
When we decided to invite friends over, I tried to think of some different kinds of snacks to serve. Of course, ham salad came to my mind when I opened my refrigerator door and saw left over ham on the shelf in front of me.
I needed to do something different though if I were going to actually make and serve it at a gathering…then I thought of cream puffs.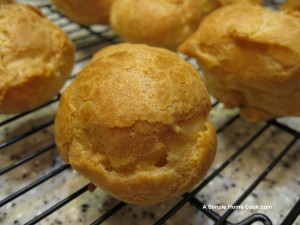 Cream puffs (aka. Choux Pastry, Pate a Choux) make both savory and sweet eats that are great for a gathering.
I must admit that until I really looked at the recipe in my old McCall's Cookbook (cira. 1963), I thought they were way too complicated to make. To my surprise, they are not hard to make at all. However, they do require some muscle power if you stir them by hand.
Here is the recipe from McCall's along with my suggestions:

Recipe: Cream Puffs
Ingredients
1c. water
1/2 c. butter or margarine
1/4 tsp. salt
1 c. sifted all-purpose flour
4 large eggs
Instructions
Preheat oven to 400 degrees.
In saucepan, slowly bring water, butter, and salt to boiling.
Remove from heat.
With a wooden spoon or sturdy silicon spoon/spatula beat in flour all at once.
Return to low heat. Continue beating until mixture leaves the side of the pan and forms a ball.
Remove from heat.
Stir one egg at a time into the mixture, beating hard after each egg is added until mixture is smooth.
Continue beating until dough has a shiny, satiny appearance and breaks into strands.
Drop by rounded tablespoonfuls, 2 inches apart on ungreased cookie sheet. Drop by half tablespoonfuls for more bite sized, savory appetizers.
Bake until puffed and golden-brown, approx. 45 – 50 minutes. (Reduce heat to 350 after 40 minutes and allow to bake for another 10 – 15 minutes for less soft filaments inside).
Puffs should sound hollow when tapped with fingertip.
Let cool completely on wire rack, away from drafts.
Cut off tops crosswise to serve.

Scoop out any soft dough filaments inside before filling.
Quick Notes
You can line the sheet with parchment paper, but clean up is not a problem without it.
Serve soon after filling if using very moist filling.
Variations
Fillings could include whipped cream, cream cheese, ham salad, etc., etc.
There are so many filling possibilities…I think those will be tomorrow's post.