I love this soup! Yes, it is very delicious. Yes, it is full of vitamin C (and rather high in vitamin A also). Yes, it is creamy. Perhaps most importantly, it is versatile, like a good black dress. It can be dressed up and placed in espresso cups, shot glasses or similar elegant appetizer size glasses for that a formal or semi-formal event. However, it can also be dressed down and placed in mugs or bowls for a comfortable, casual gathering or everyday meal.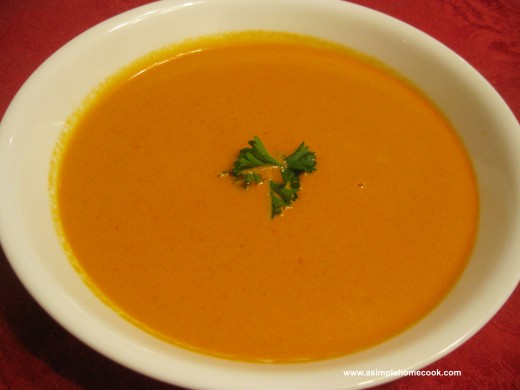 I slightly adapted the recipe from one that is in one of my new (old) favorite cookbooks, The Greenbrier Cookbook: Favorite Recipes from America's Resort
. The Greenbrier Resort is a National Historic Landmark and luxury resort in White Sulfur Springs, West Virgina that is famous for golf, a spa, an underground bunker, and great food.
As I have only driven by the Greenbrier Resort twice in my life and never was inside, I can't say how this might taste by comparison to what they might serve. I only know that not only do I love this soup, but my daughter (who hardly touches cooked cream of tomato soup from a can but likes soup) loved this soup.
Although recipe rather decadently uses heavy cream, you can lighten it up some by using evaporated milk or half and half.
I should also tell you that I rarely use salt added canned products or stock.   Thus, you should adjust the suggested salt level if you are using products with higher sodium levels.  Frankly, I think that when it comes to cooking anything seasonings should always be adjusted to personal tastes.
Although you could use jarred roasted peppers, I find that roasting them is super simple and I think they taste much better.   My next post will have how to roast peppers 🙂