Whenever I find myself longing for my mom's fried chicken or some of the delicious fried chicken that can be found at a half-a-dozen local restaurants near my house here in the South, I turn to this simple recipe for an oven "fried" chicken that really is as crispy, moist, and tender as any of those fried chicken meals. Best of all, it is relatively quick, easy, and gluten-free…unlike my experience with traditional fried chicken.
Because it is not fried in copious amounts of fat, I think it is a healthier alternative to traditional southern fried chicken.  Unlike deep fried chicken, olive oil can be successfully used to "fry" in the oven.  When using olive oil, I like to keep the oven at 375 and just bake it a little longer.  I like olive oil's healthy properties, but I must admit that I like the flavor of the butter a little better in this recipe.
Because it is gluten-free, I can serve it at functions where there are going to be gluten-free friends in attendance.   Earth Fare stores carry a gluten-free brown rice cereal that is great for this dish. There are some crispy rice cereals that are not marked gluten free, so check the box before purchasing if being gluten free is important to you.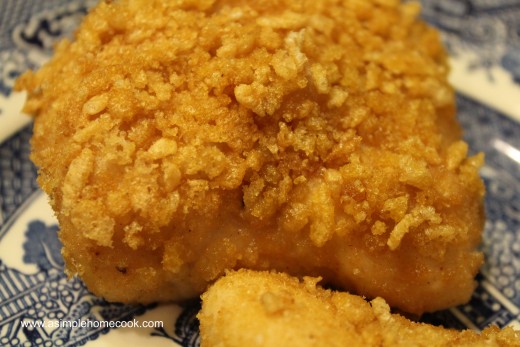 I am honored to have been asked by Earth Fare to write this post in exchange for a gift card to buy the ingredients. I love shopping at Earth Fare not only because of the great quality of food, but because they offer such great deals and coupon, They did not ask me to share my opinion; it is my own. You can find all the ingredients for this recipe at Earth Fare.