I am not a fan of the typical Chinese all-you-can-eat buffet restaurant. Some of them are good enough and some of them are really bad.
In fact, between them and the carry-out Chinese restaurants I used to frequent in years past, I thought I would never have really superior Chinese cuisine.
I was wrong.
I read online reviews that raved about the good food at a Chinese restaurant in Hixson, Tennesse. It took me awhile to finally go there, but when I did, I knew what everyone else was raving about.
Formosa is not that impressive looking from the outside. It is tucked away in a shopping center.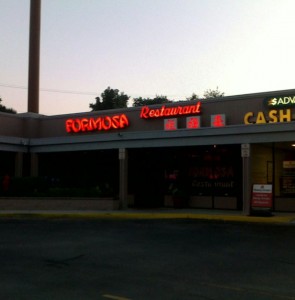 Don't let the strip mall location and exterior throw you off. Inside, there is wonderful food.
It is not a buffet. You are seated at tables or booths by a friendly staff. They bring you fried wanton strips and dipping sauce to munch on as you read the menu. You place your order. They bring it to you.
They offer a wide selection on the menu from giant egg rolls to dragon-horse chicken. The food is served in the traditional family style, so everyone can share.
Here are a couple of photos of our food that I took with my cellphone:

Everything was delicious. Plus, every entree we ordered was under 10 dollars and we had enough leftover for a meal the next day. It was a good value.
In my opinion, this restaurant deserves all of the positive reviews. It has friendly service and yummy food at very reasonable prices. To me, it is much better than any buffet or chain Chinese restaurant.
For more information, here is their website.
Disclosure: This is just my opinion and experience. I have not been compensated or solicited in any way.