I can not seem to replicate my favorite dishes that family members make even when I have their recipe. Although I always wonder why when it happens, I believe it is because they rarely use/used recipes. They cook/cooked by feel. Thus, when they write/wrote it down it does not/did not always translate.
This was the case with my aunt's Swedish Meatballs. The meatballs turned out as delicious as hers, but the sauce was very flat. I ended up revising the sauce a bit. I don't know if it tastes just like hers now, but it got the approval of my family – and they love her dish.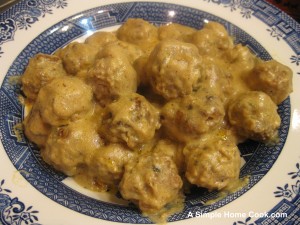 Recipe: Swedish Meatballs
Ingredients
1 lb. ground beef
1/2 lb. ground pork or sausage
1/2 c. minced onion
3/4 c. bread crumbs
1 egg, slightly beaten
1 Tbsp. minced parsley
1 tsp. Worcestershire sauce
1/2 c. milk
1 1/2 tsp. salt
1/8 tsp. pepper

GRAVY:

1/4 c. flour
1 c. boiling water
1 c. hot beef stock or broth
1 Tbsp. Worcestershire sauce
1 tsp. paprika
1/2 tsp. salt
1/8 tsp. black pepper
3/4 c. sour cream
Instructions
Mix all ingredients thoroughly.
Shape into walnut sized balls.
Heat 1/4 c. vegetable oil in a skillet.
Cook meatballs in hot oil.
Remove meatballs and set aside.
Remove excess oil/grease from skillet leaving approx. 1/4 c.
Mix in flour until smooth.
Add boiling water and stir until totally incorporated.
Add warmed beef stock stirring until well blended.
Mix in 3/4 c. sour cream.
Add salt, pepper, and paprika to taste.
Return meatballs to gravy and cook approx. 15 minutes longer.
Meatballs may be frozen after cooking in skillet.  They can be thawed and added to sauce at a later date.