I have gone and done something totally crazy. No, I mean really crazy.
I decided to make Cream of Mushroom soup. What is crazy about that?  It is one of those dishes that my mother-in-law makes, everybody loves, and often requests her recipe.
It is bad enough that I once again tried to replicate her dish. However, I crossed the border to Crazyland this time. I changed it. Yes, I made some changes to the recipe.
When I made it in the past, the mushroom slices would fall to the bottom of the bowl. Mine looked more like milk in a bowl. I decided to make it thicker.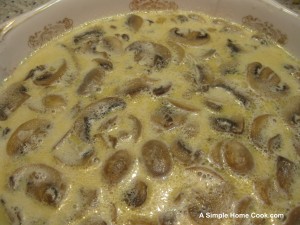 I even changed how it was prepared to eliminate needing a pot and a skillet, and increased the amount of onion. (I know, where is the straight jacket).
Here is the result:

Recipe: Cream of Mushroom Soup
Ingredients
1 lb. sliced mushrooms
2 -3 Tbsp. butter
1 – 2 Tbsp. finely minced onions
2 Tbsp. Wondra flour
16 oz. chicken stock 1 tsp. cornstarch in 1 Tbsp. chicken broth
2 c. light cream or half and half
Salt
Pepper
Instructions
In large, heavy pot, saute mushrooms in butter until tender.
Add onions before mushrooms are done. Allow to cook until they are translucent and soft.
Remove from pot and set aside.
Add 2 – 4 oz. of stock to pot, then add flour and cornstarch mixture.
Stir until smoothly incorporated.
Add remainder of stock and cream or half and half.
Stir constantly over medium heat until mixture is very hot, but before it boils.
Add mushrooms and onions back into soup base.
Salt and pepper to taste.
Cook at least until mushrooms are reheated. Preferably, cook on medium low heat for 10 – 15 minutes stirring frequently.
Add more butter if desired before serving.
Quick Notes
You need enough butter/liquid to cook mushrooms thus you may need to adjust butter amount to meet need.
Using pre-sliced mushrooms saves a lot of prep time.
All-purpose flour may be used instead of Wondra flour.
If you use a good deal of butter to cook mushrooms and onions, you probably do not want to add more at the end.
Variations
Vegetable stock may be used instead of chicken stock.
I used white button mushrooms, but other varieties would work nicely.
Although my husband could not each much because of his milk allergy, he said it was delicious. That was indeed praise.