The Amish Country in Ohio is a great area to get home-style comfort food that is consistently delicious. My two favorite place are actually owned by the same company that also has locations in Florida. Although they still own less than 10 restaurants, it is a much larger company than I ever expected to be my favorites in an area with such great food.
The Der Dutchman in a Holmes County (the heart of the Amish Country) community of Walnut Creek is the first one I remember. It, like the other outside of Sugar Creek, Ohio, has a bakery attached (and a Inn owned by the same company next door).
The menu includes a large buffet, salad bar, family style meals, individual entrees, sandwiches, and desserts.
One of their specialties is broasted chicken. It is delicious! Broasted chicken is marinated chicken that is cooked in a pressure cooker/fryer called a broaster. My husband did not know..or ask…what broasted chicken was, so he ordered the baked chicken. He really enjoyed it.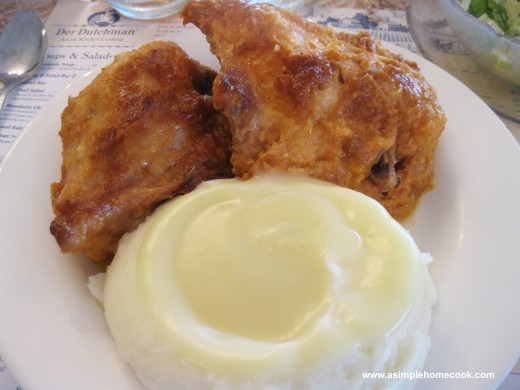 I also really like what they call the Manhattan, a hot sandwich with mashed potatoes or stuffing, and gravy. The sandwich can be made with beef, pork, or turkey. I usually get the turkey.
Okay, it is not a meal one should have often, but it is really delicious. You can get a half order, but it is only a dollar less than the full…a point my dad always made and insisted that we get a full order. To this day, I have never finished a full, but can not bear to order just a half.
Unlike when I go to most restaurants, I always get dessert when I am in the Amish Country (usually to go). Pie to be more precise. I like any of their cream pies and custard. My husband enjoys a slice a Dutch Apple.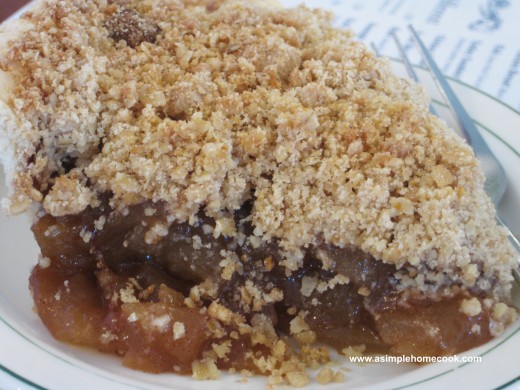 Despite the Amish Country in Ohio becoming more commercialized and tourist driven every year, the food at the Der Dutchman and its Dutch Valley counterpart has remained consistently good in my experience.
By the way, there is a third restaurant in Ohio under the same company. It is located in the very popular town of Berlin and the newest of the three. Because of Berlin's popularity, I try to avoid it. Thus, I have never been to the third restaurant. I can not imagine that is not to the same standard as the others though.