UPDATE: THE CHERRY STREET DINER HAS PERMANENTLY CLOSED.
I'm not sure if its because of nostalgia, the food or both, but I love diners. I especially love finding a good diner like The Cherry Street Diner in Chattanooga.
Upon entering, I noticed several Mardi Gras and LSU decorations the otherwise typical diner decor establishment: cherry red booths, cherry red chairs at tables in the back, cherry red swiveling stools in front of a long counter, a stainless steel grill and fry area on the other side of the counter, etc. When I saw the owner(?) come from the back wearing a purple LSU shirt, I understood.
I also understood and was intrigued when I saw po' boys on the menu enough to consider ordering one. However, my favorite "diner food" is a club sandwich. If it is on the menu, I order it. It was and I did.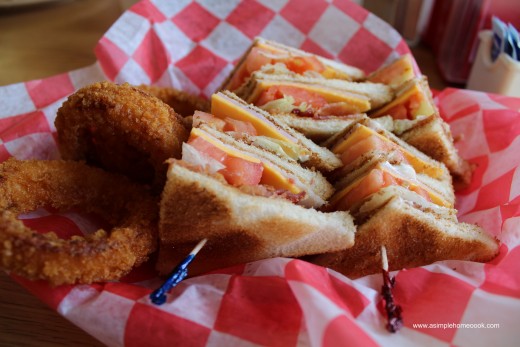 Because it is my norm, it does help me compare diners and similar restaurants. It was a good sandwich and a good diner. I also ordered the onion rings and was pleasantly surprised. As the waitress had given me the option of "homemade" potato chips, I am going to guess that these may have indeed been "homemade" as well. (I think it is odd how stuff made in a restaurant is often called "homemade"). It was exciting to find another place in Chattanooga besides Niki's and Cheeburger Cheeburger that I'll order onion rings. I think having three places that serve decent onion rings in one city must be some kind of record 🙂
My husband ordered his usual diner pick, a patty melt. The ground beef looked rather thick and juicy. He said it was very good.
However, I think my daughter had the best meal of all, the daily special. It was pork roast in a gravy with some veggies and mashed potatoes. She loved it.
She wanted dessert, so I agreed to split a piece of Italian Creme cake. It was good. It was a typical cake like you might purchase in a bakery or a grocery store bakery.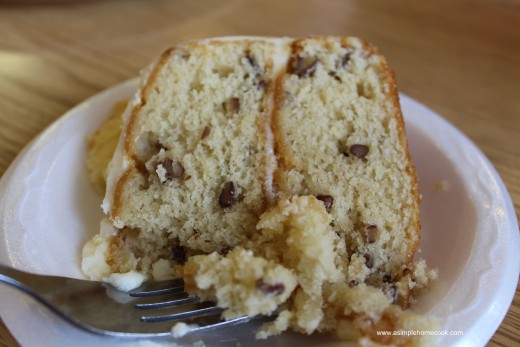 The service was very attentive and very friendly even with being very busy with a large lunch crowd.
There is a parking lot directly across the street and a parking garage diagonally across the street, but the most cost efficient parking is the metered parking on the street.
I must confess, it was a few years from the first time I noticed it while driving by until I finally got to stop and eat. Why? There are a few reasons. First, it closed. It was closed and reopened with new owners in July 2013. They are the reason for the refreshing Louisiana twist.
Second, although it is downtown, it is on the corner of two streets I rarely travel. I simply tended to forget about it when I was in the area unless I drove past. Finally, it is not open 24/7 like some East Coast diners. It is only open for breakfast and lunch, Monday thru Friday. I would often remember it when it was already closed.
Cherry Street Diner is actual fairly conveniently located just one block from block from Market Street, one of the busiest streets in downtown. It is also convenient to the Chattanooga Choo Choo, Hunter Museum of American Art, and all the downtown attractions. It is also very close to the courthouse and UTC campus, so it gets much, if not most, of its business from locals.
I can hardly wait to try a po' boy next time.
P.S.- It appears that they have not developed a website or a social media presence, since new owners took over. An article about the opening gave 423 521-4621 as a phone number to contact.