Growing up, my mom bought Baker's Ammonia every year before her holiday baking season began from our local pharmacy.
When I was an adult, that pharmacy went out of business, but we found it at other pharmacies. Heck, we even found it at a large discount retail chain pharmacy.  It did become much harder to find over the years and often required a trip to the Amish country to locate.
After we moved south, I called around to all the local, regional, and national pharmacies in the area including that large discount retail chain looking for it. To my amazement not only did no one have it, even the pharmacists had no clue what I was talking about despite my also calling it Ammonia Carbonate.
In case you are not familiar, Baker's Ammonia ( aka. Ammonium Carbonate, Hartshorn) is an old fashioned leavening ingredient that pre-dates baking powder and baking soda (the term Hartshorn was literal once).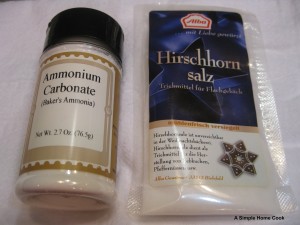 It is activated by heat instead of moisture, thus much of it evaporates during the baking process.  The smell of ammonia does fill the kitchen and your nose, but it does dissipate quickly.
I do not think it is a direct substitute for other leavening agents.  It is good for crisp cookies, crackers and even cream puffs, but I would not want it used in a cake.
It is easier to find in certain geographic areas of the United States than others.  It is still available in pharmacies, but it can also be purchased sometimes in the craft department of that large retailer, Jungle Jim's near Cincinnati,  Amazon, King Arthur, and other web sites and specialty stores.
The good news is it can be kept for a very long time once you find where to buy it.  However, it does need to be kept in an air tight container or else it will liquefy or evaporate.
My mom may have had an easier time finding Baker's Ammonia to purchase, but it was only sold in lump form then.  I remember her pounding the lumps with a rolling pin trying to crush it and then waiting a long time for the ammonia to dissolve in milk so it could be used in the lemon crackers.
I am glad it is sold in powder form today.