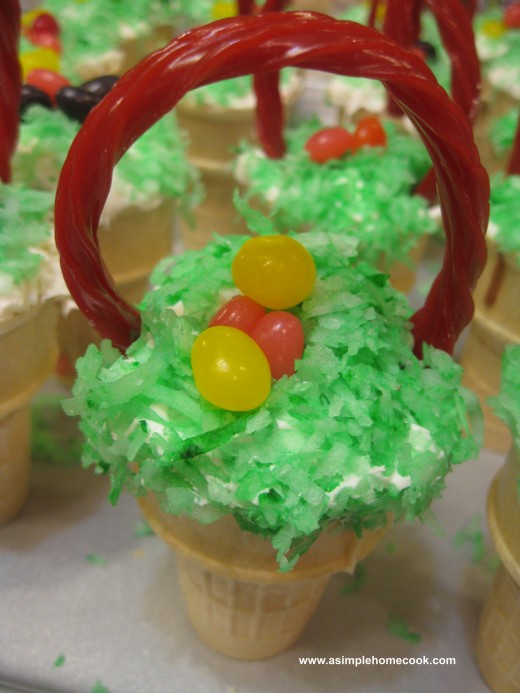 Making these easy Easter treats is a great way to get all members of a family involved in a project.
I believe the first time I made these was as a kid for our Junior Girl Scout troop to take to a party (I think it was at a nursing home….they are great for kids, but honestly I am not sure about how practical they are for a nursing home). After that, my mom (the troop leader) had us making them as a family activity and for any Easter party where there would be kids.
I feel very Blessed to get to make them with my daughter and pass along what is becoming another family tradition.
Although you could use cake/cupcake and icing recipes to make them "from scratch," we always made/make them using a boxed cake mix and canned icing. I like the simple and quick approach when it comes to working with very young or multiple children.
Although it is more of a kitchen craft than a recipe, here is how we do it:

Easter Basket Cupcakes
Supplies
1 box cake mix (whatever flavor you like) and any additional ingredients needed according to recipe on box (eggs, oil and water, normally)
20 – 24 ice cream cones (flat bottomed)
muffin tin(s)
ladle or scoop
1 can frosting, white or green in color looks best
2 c. sweetened coconut, shredded
green food coloring
1 qt + zip lock plastic bag
jelly beans
20 – 24 pieces of rope candy (ie. Twizzlers)
Instructions
1. Preheat oven to 350 degrees.
2. Mix cake according to package directions or recipe.
3. Place cones in tins of muffin pan(s).
4. Use a ladle or scoop to fill cone until it is about the same level as the picture below.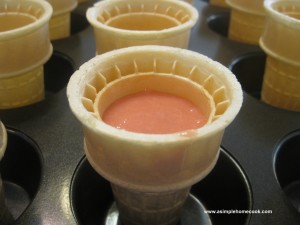 5. Bake for 20 – 25 minutes until a toothpick inserted in the middle comes out clean.
6. Remove from pan and carefully place on wire rack to cool.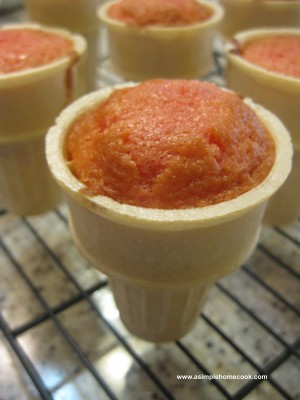 7. Place 1 1/2 to 2 cups shredded coconut is zip lock bag and add several drops of green food color(about 5- 6 to start). Zip bag and shake/knead until coconut is colored green. Add more food coloring to achieve desired color.
8. Frost cupcake cones with icing.
9. Either pat the colored coconut onto the iced cupcake cones or place colored coconut in a bowl and dip the iced cupcake cones in to coat ( I usually use a combination of both).
10. Add a few jelly beans on top of coconut and into icing.
11. Gently push one end of rope candy/licorice into side of cupcake slanting slightly to continue into cake if cone is slanted. Then, repeat with the other end of the candy on the direct opposite side of the cupcake to form the handle.