Having a gathering to watch the game or celebrate an event does not mean you have to stress about the food or spend hours in the kitchen preparing for the event. You can make impressive looking (and tasting) party foods easily and quickly using brie or similar cheese and a few other items.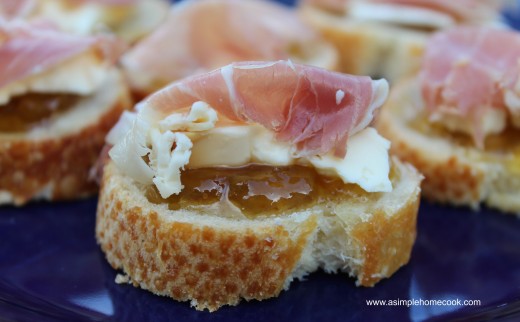 A delicious canape can be made in seconds by topping a slice of a baguette with a little fig jam, a slice brie or similar cheese and a thin slice of prosciutto. Simple? Yes. Delicious? Yes. Stressful? No.
Need a gluten-free option? Just thinly slice a firm apple…a cross-section or just a half slice…and top the same as the baguette. Or, you could top with a slice of brie, a couple of drops of honey and a thin slice of ham.
Like your brie warmed? Wrap a slice of brie or similar cheese with a teaspoon of canned apple pie filling or other fruit filling or preserves in a triangle of refrigerator crescent rolls. Just bake on a sheet lined with parchment paper at 375 degrees F until golden brown, about 15 minutes. Want a savory crescent wrap instead? Use sauteed and cooled mushrooms or cooled caramelized onions instead of the fruit for the filling.
Of course, you can always follow a traditional path and top the brie with a fruit or savory topping and wrap in puff pastry. However, it does require some time to put together. An easy alternative is just to bake the brie and top with warmed fruit like Cranberry Topped Brie. Serve with crackers or slices of baguette.