It is Friday. Friday is often pizza day at our house. However, I must admit I am not really looking forward to the frozen pizza that is on the menu for tonight.
I would much rather be at Franco's Pizza, Pasta and Subs in Harrisonburg, Virginia eating this: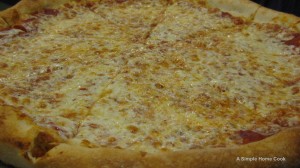 Their pizza is fantastic. There have just the right amount of yummy cheese and sauce on a delicious crust.
What could be better? How about getting this 16 inch delight and a two liter bottle of pop for $11.07 with tax! We stopped on a Monday and were able to get their special. What a terrific bargain!
The main problem I have with Franco's Pizza is that it is so far from where I live. However, it is conveniently located just off I-81 in Harrisonburg, VA very close to James Madison University. So, it is an easy stop if you are traveling through or live near the area.
I highly recommend stopping by if you are even remotely close and enjoy good pizza.
For more information, click here.
Man, talking about it and seeing it again really makes me not want to eat the pizza in my freezer.