Foodworks is a unique, modern southern cuisine restaurant located in the North Shore area of Chattanooga, Tennessee in an old knitting mill.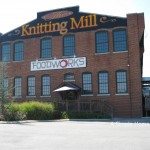 I had previously been to the antiques mall side of the old mill.  It was neat, but the ambiance in the restaurant was even better.
It was very clean and the decor showed off the unique architecture. It was a very relaxing atmosphere.
We decided to go there for brunch after hearing good things about it.
We were greeted at the door by very friendly staff.    When we were seated, I was pleasantly surprised to discover they have a kid's menu.
We were given just the right amount of attention by an enthusiastic wait staff.  Our appetizer was served promptly.  My husband ordered the candied shrimp.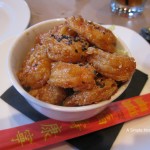 It was freshly fried shrimp with coating of a slightly sweet and spice sauce. My husband especially enjoyed it.
I ordered the shrimp and grits.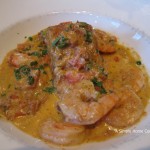 The shrimp were tasty and not overcooked. The grits were different from those I had before. They were still creamy, but they were also in a wedge. The Tasso sauce was very nice.
My daughter and I finished the meal with an excellent Creme Brulee.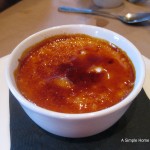 I think it may have been the best Creme Brulee I ever ate. Actually, my daughter ate most of it.
We were one of the few tables I saw that did not order the champagne or mimosa that we could have bought for $1 with our brunch entrees. Apparently, they are very good and a good price.
If you would like a modern, innovative twist on Southern Cuisine, it is worth checking out Foodworks if you are in the Chattanooga area.
Disclosure: These are just my opinions. I was not compensated or solicited in any manner.